News
Danish population reaches 5.8 million
---
This article is more than 5 years old.
Number of citizens in Denmark has doubled over the past century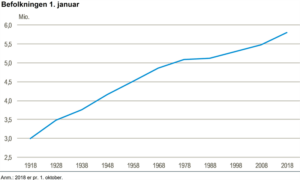 According to new figures from the national statistics keeper Danmarks Statistik, the Danish population has surpassed 5.8 million for the first time.
The stats (read more here in Danish) showed that the population increased by 16,100 people during the third quarter of this year and Denmark now has 5,806,000 citizens.
READ MORE: Immigrant population numbers to rise steeply compared to ethnic Danes
Living longer
Over the past century, the population of Denmark has doubled – one of the reasons being people are living longer and more people are immigrating than emigrating.
"159,142 women and 102,841 men – or 4.5 percent of the total population – has turned 80 as of 1 October 2018. That's 2.6 percent more than the same quarter last year and 15.4 percent more than the same quarter in 2008," Danmarks Statistik wrote.
"The number of men aged 90-99 has risen by 39.4 percent over the past ten years, whereas the number of women in the same age group has only increased by 17.0 percent over the same period of time."
The report also revealed that 941 women and 153 men surpassed the century mark – a 36.1 increase compared to a decade ago. The oldest women are 110 years old, while the oldest men are 106.
Some 63 municipalities have experienced a population spurt since October 1 last year – led by Vallensbæk's 3.8 percent increase. Copenhagen saw an increase of 1.8 percent (10,876 people).
Still minnows
In the grand scheme of things, Denmark's population could be considered a drop in the human ocean when looking at the global figures. 
Of the world's 7.7 billion people, China continues to lead the way with over 1.41 billion, although India, close behind with about 1.36 billion, is expected to take the lead in 2028.
The US comes in third with over 327 million people, followed by Indonesia (267), Brazil (211), Pakistan (202), Nigeria (197), Bangladesh (167), Russia (144) and Mexico (131).
Japan, Ethiopia, the Philippines, Egypt, Vietnam, DR Congo, Germany, Turkey, Iran and Thailand complete the top 20. Denmark ranks 115th, while Greenland comes in 207th with over 56,000 and Faroe Islands come in 212th with over 49,000.
The Holy See is the least-populated sovereign entity in the world with 801 people, preceded by Tokelau, Niue, the Falkland Islands and Saint Helena.