News
Humans of Copenhagen: Lockdown edition
---
This article is more than 3 years old.
Six capital residents reveal how they're coping with living in 'quarantine'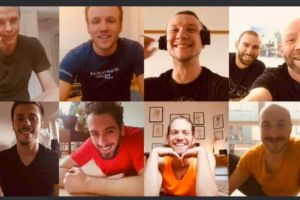 We asked how you were handling the lockdown and adjusting to new routines.
Some of you joked that you finally learned your normal lifestyle was called 'quarantine'.
Others talked about trying to sneak in a few hours of work with your kids running around in the background.
We heard about missing birthdays and sharing a beer over video chat. 
Here's what six of you had to say:
Tim Rhys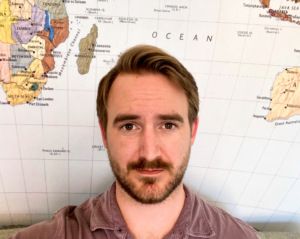 Tim is from Sydney, Australia. He's been in Denmark for four years and worked as a substitute teacher and at a hotel in Copenhagen. He's currently in lockdown with his partner.
What's the biggest change?
The biggest change is the lack of routine. Since school has been closed, I really don't have a lot to do. Shifts at the hotel are non-existent, so for now it's a bit of PlayStation, Netflix, going for a walk, doing a puzzle with my girlfriend and looking for possible employment. 
How do you feel? What's your biggest worry?
Restless and concerned. I am in a situation where I am not able to earn any money for the foreseeable future. What Denmark is doing for its own people is remarkable. However, I do not qualify for any of the assistance packages. And, even if I wanted to, accessing benefits would void my visa (spousal/family reunification), and I will essentially be kicked out of Denmark. I have managed to slip through the cracks in all this. I thought I could negate the instability of substitute work by having a second job. But, I'm healthy, as is my partner and our families, so I just have to remember to be grateful and trust that things will get better. 
What are you looking forward to the most?
I just want to get back to work right now. I love my job and feel lucky to be able do something I enjoy here in Denmark. Sometime this coming summer I am hoping  to see the parks and city full of people again, enjoying themselves freely.
Sophia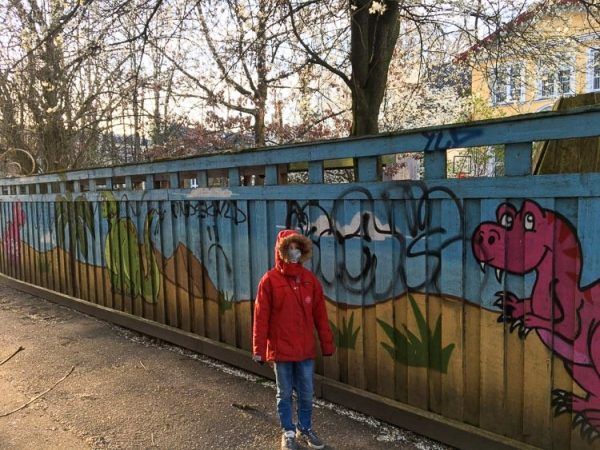 Sophia is 11 years old. She likes to watch YouTube, be with her guinea pig and her family, and play computer games with her friends.
What does a day in lockdown look like for you?
I wake up, and first I play a bit on my computer with my friends. Then I do homeschool for three hours. My teachers give me things to do. After school I watch YouTube and play on my computer. Sometimes I go out with my mum to do some shopping. Yesterday we went for a walk too.
What's the biggest change?
Probably that we cannot go so much outside and not go to school.
How do you feel? What's your biggest worry?
I am scared and I am worried that someone near me will get the coronavirus.
How do you stay positive?
We still can call each other and I hope all this will be over someday.
What are you looking forward to the most?
That we can go outside again and I do not have to be scared about the coronavirus.
Malwina Tarka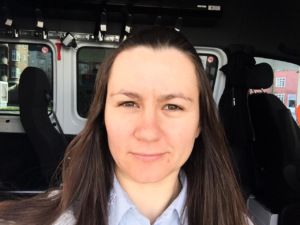 Malwina is a professional driver for disabled and sick individuals. She lives with her daughter and boyfriend and is a climbing instructor in her free time. She currently drives individuals who are too sick or old to get to the hospital on their own.
What's the biggest change?
Actually, everything has changed. My work routine is different. The traffic in town has completely disappeared – that is actually one thing I really love in this situation! I also now only drive people who really need to be in the hospital – for instance for radiology or dialysis. In my private life, I miss climbing. We can't go climbing at all.
What's your biggest worry?
I'm pregnant right now. I guess my biggest fear is getting sick and then getting my baby or the patients who I drive sick. They really can't get sick right now. 
How do you stay positive?
We spend a lot of time in the kitchen.
What are you looking forward to the most?
Climbing … climbing … C.L.I.M.B.I.N.G!
Christoph Dargel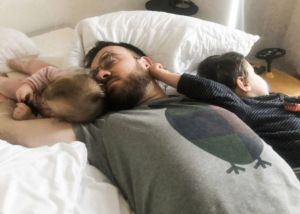 Christoph moved to Denmark from Germany two years ago. Currently, he balances working from home and naps with his two children.
What's the biggest change?
For me, the biggest thing is to realise how vulnerable and fragile all the things that we take for granted are, and how difficult it is to adapt, even with trivial things. In the first days of the lockdown we went to a popular playground nearby because we are used to that. We stopped that a few days ago as it does not really make sense to close kindergartens and then transfer the same activities and interactions to a different place.
How do you stay positive?
I feel okay to be honest. Of course there are lots of negative things. The worst, in my opinion, being the people heavily affected, but also smaller things like how we had to cancel the celebrations for my grandpa's 100th and most likely the ones for my daughter's first birthday as well. I think we can make the best out of it and use the time to learn, read and reflect, and have video calls with our people.
What are you looking forward to the most?
Seeing my friends, family and colleagues again. It might sound weird, but I hope that we also learn some things out of the lockdowns and don't just go 'back to normal'. People don't commute to offices so much, meetings that should always have been an email are an email now. And with travel being restricted, you can see blue skies in megacities and wildlife in the canals of Venice.
Hanna Ågren
Hanna recently moved from Sweden to live with her Danish girlfriend. She sells jewellery at historical festivals and spends her free time making art out of insects and clockwork.
What's the biggest change?
I'm very used to not having routines. I travel a lot and improvise when things aren't working. The biggest change for me is having to be home, as I'm usually always out meeting people. The good bit is I get some routines (like the running) – the bad will come in a week or so when I start climbing the walls.
What's your biggest worry? And how do you stay positive?
There's of course the dark cloud on the horizon of economic issues, along with the possibility that my family or friends might get infected, but I know there's nothing I can do that I'm not already doing, so fretting over it won't help. I'm trying to enjoy the calm as long as it lasts. Luckily I have a lovely boss who said to me: "Den dagen den sorgen (that day that sorrow)" and keeps paying my salary.
What are you looking forward to the most?
To be able to travel, go out, meet friends and family more casually, go to the cinema and go to work. After all, I do have an awesome job. Also, it'll be great to see something other than corona and conspiracy theories in my news feed.
Donatello Nardelli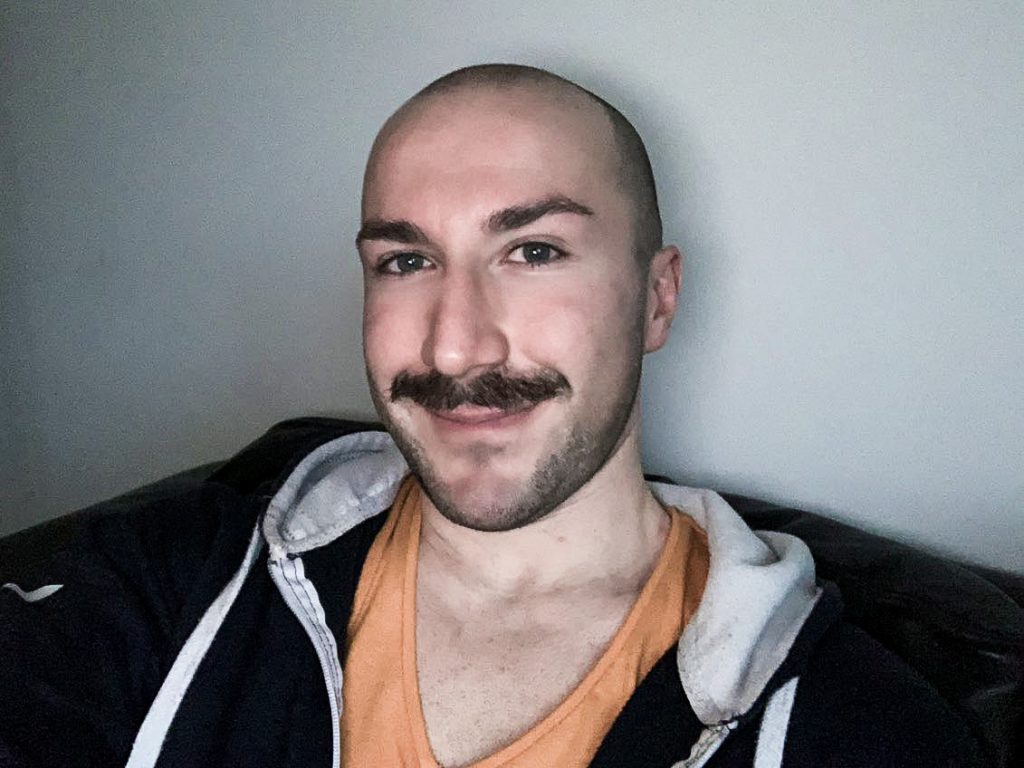 Donatello worked in retail and was sent home on paid leave, but he worries about his family in Italy and tries to dedicate his time to himself, his family and his friends.
What does a day in lockdown look like for you?
I wake up and check my phone for notifications for news from home, since I'm from Italy and my country is badly involved in this virus story. I clean and do some of my hobbies. Then, at around 16:00, I do home workouts with my water polo team through a group video call. I spend the rest of my time hanging out with my housemates and Netflix at night.
What's your biggest worry?
The first few days, I was getting affected emotionally. I do still worry for my family, but I'm trying to go through the news less because I get stressed, and it gives me anxiety which does not help at all. So I'm just trying to look at this period of time like a free time to dedicate to myself and to my family and friends with video calls.
What are you looking forward to the most?
Freedom! It's one of the most important values in our lives, and we don't realise until they take it away from us: the freedom of travelling, doing sports, going clubbing, and doing the things that make you happy in life.