News
Michael Laudrup voted the emperor of Danish sports
---
This article is more than 3 years old.
Denmark's greatest footballer will never be underrated at home … or in Spain for that matter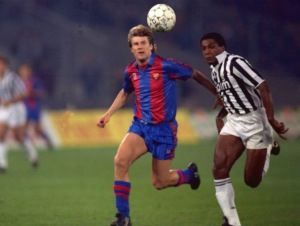 German icon Franz Beckenbauer once said: "Pele was the best in the 60s, Cruyff in the 70s, Maradona in the 80s and Laudrup in the 90s." 
And if you take some time to check out the 83-minute YouTube video of his passing genius (see below), you'll understand why.
His vision was incomparable. It's like witnessing football transforming into art.  
Equally unmatched is Denmark's love for the man.
In a YouGov survey for BT tabloid in recent days, Laudrup was voted the best sportsperson in his country's history. 
Laudrup garnered 21 percent of the votes, ahead of Caroline Wozniacki (18 percent), Paul Elvstrøm (12 percent), Peter Schmeichel (10 percent) and Anja Andersen (7 percent). 
READ ALSO: Skinning the mighty bear: The game that united a nation
The idol of legends
Laudrup is also one of the few players who have managed to be loved by both Barcelona and Real Madrid fans. Just ask a Spanish football fan what 5-0, 5-0 means.  
There is a reason he was voted the best foreign player in Spain between 1974-1999. He is the only player to ever win the Spanish league five times in a row playing for two different clubs. 
As the key ingredient of Barcelona's famous Dream Team of the early 90s, Laudrup won four league titles on the trot before moving to Real Madrid and immediately winning another title in the Spanish capital.  
Barca, meanwhile, were forced to wait four years for another league title following the Dane's departure. 
Earlier this month, Manchester City star David Silva revealed that Laudrup was his idol, joining the ranks of Guardiola, Messi, Cruyff, Romario, Zamorano, Iniesta, Raul, Figo, Stoichkov and many others to hail the Danish playmaker over the years.
Watch the video below to see why.