News
Archaeologists unearth secret tunnel at Østerport Station 
---
This article is more than 3 years old.
Discovery was made in connection with the Metro excavation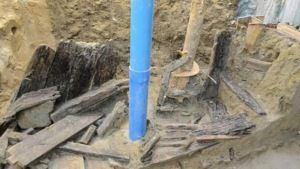 Archaeologists from the Museum of Copenhagen have discovered a secret tunnel in connection with the excavation of a new Metro link at Østerport Station. 
It is believed that the wooden remnants, located six metres beneath Østbanegade, are part of a secret escape tunnel dating back to the late 1800s.  
"The tunnel is seemingly cut off by the rampart at Østerport Station, but the other end continues under Østbanegade. We don't know if it turns or where it ends. It's a mystery," Christian Andreas Flensborg, an archaeologist with the Museum of Copenhagen, told TV2 Lorry. 
READ ALSO: Jelling monuments under pressure from tourists
Echoes of WWI
Initially, archaeologists estimated that the tunnel was from the 1600s, but an analysis of the wood revealed that it came from a tree that was cut down in 1874. 
Similar construction methods have been found in tunnels built on the western front during WWI. 
The tunnel is about one metre in height and width and is three metres in length … so far. 
"It's odd that you make a tunnel that no one knows about. This construction must have been secret. It's a part of Copenhagen's military history," said Flensborg.