News
Half of Danes say racism not a problem in Denmark – survey
---
This article is more than 3 years old.
But young people and women see racism as a problem while experts warn that ethnicity was an important factor missing from the survey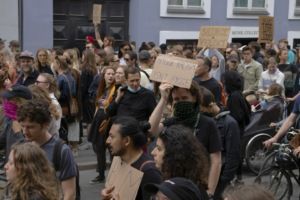 The Black Lives Matter movement in the US has reignited debates on the prevalence of discrimination in Denmark, but a new survey shows that half of Danes do not see racism as a pervasive problem at home.
A new Megaphone survey for Politiken and TV2 reveals that 51 percent of respondents completely or largely disagreed that racism is a widespread problem in Denmark. In contrast, almost a third of the respondents, 32 percent, said that they completely or predominantly agreed there is widespread racism.
This is the result of an online survey conducted from June 10-11 among 1,174 respondents consisting of Danes over the age of 18. Notably, the ethnicity of respondents was not taken into account in the survey.
Youth, women see racism problem
There were however differences when factoring in respondents' ages. Young people aged 18 to 29 perceived racism as a problem to a greater extent than older people did.
Women, Copenhageners and university graduates likewise saw racism as a problem more than men, people in other areas and Danes without education did.
The survey was conducted as a wave of protests hit the US and major cities worldwide in response to the May 25 death in police custody of an unarmed black man, George Floyd, in Minneapolis. A crowd of 15,000 took to the streets of Copenhagen last Sunday in the second protest against racial injustice in the capital besides demonstrations in Aarhus and Odense.
'White Danes don't experience it'
"I am not surprised that half of Danes believe that racism is not a problem. It is usually those who experience discrimination who are experiencing problems," Mira Skadegard, a postdoctoral fellow at Aalborg University's Department of Culture and Learning, told TV2.
For Michael Nebeling Petersen of the University of Southern Denmark, ethnicity was an important factor missing from the survey. He added that results could have been different had this been accounted for.
"White Danes do not experience racism on their own. Neither do I myself. I have lived in Nørrebro for 15 years and have never been stopped by the police. But when I go with my Arab friend, he is often stopped," Petersen, an associate professor and racism researcher, told Politiken.