News
Denmark has three new 'mini' coronavirus outbreaks
---
This article is more than 3 years old.
A person who took part in the BLM demonstration on June 7 has been confirmed as being infected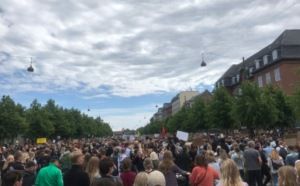 According to the health minister, Magnus Heunicke, Denmark currently has three new 'mini' coronavirus outbreaks in various parts of the country. 
One of those stems from a confirmed case involving a person who was among the 15,000 people who took part in the Black Lives Matter demonstration in Copenhagen on June 7.
The government urges anyone who took part in the event to get tested, whether they show symptoms or not.
Another case concerns an outbreak in north Jutland in Hjørring Municipality, which has seen the most new coronavirus cases out of any municipality over the past week.
The final outbreak case involves a passenger plane that arrived at Copenhagen from Pakistan on June 6. Six people on that flight have subsequently tested positive.
"This is a reminder that the epidemic is not over and remains present in our society," said Heunicke.
"The Danes can rest assured that the authorities are monitoring the situation closely and are ready to do what is necessary."
READ ALSO: Coronavirus fears raised as thousands gather in super-spreader BLM protest crowds across Denmark
Public: No more demos!
In regards to the case involving the BLM demonstration, it is not known whether the person was infected at the march or was infectious at that time of the event. 
Meanwhile, a new Voxmeter survey conducted on behalf of Ritzau news service has revealed that a majority of Danes believe that the current gathering limit of 50 people should extend to demonstrations. 
The survey showed that 63.1 percent of respondents said that the law should also encompass events pertaining to a political goal.