News
100 people may now gather in Denmark
---
This article is more than 3 years old.
The easing of the assembly ban is part of Denmark's gradual reopening. On August 8, gatherings of 200 people will be allowed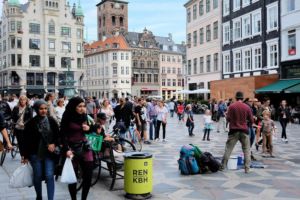 As many as 100 people may now gather in Denmark as the assembly ban imposed to prevent the spread of the coronavirus is raised starting on Wednesday.
The limit was 50 people since June 8, raised from the earlier restriction of gatherings of 10 persons introduced in mid-March when the pandemic hit Denmark. On August 8, the ban will be further eased to allow gatherings of 200 people.
The easing of the assembly ban is the result of a political agreement that parties reached last month as part of Denmark's gradual reopening.
Political demonstrations such as the recent Black Lives Matter protests are exempt from the ban. At least 12 people who joined the June 7 protest in Copenhagen tested positive for the virus.
Keep precautions
Even if larger crowds are now allowed to gather, medical experts and the police encouraged people in Denmark to observe precautions to avoid a spike in coronavirus cases. The physical distancing requirement of one metre remains.
"The virus is still spreading, and the vast majority of the population is susceptible to viruses. The more people gather, the more important it is to keep a good distance and good hand hygiene," Lars Østergaard, professor of clinical medicine at Aarhus University, told Ritzau.
The national police also said that people have generally been complying with the rules. Yet since mid-June, it handed out 836 fines for violations of the assembly ban.
Hotels and restaurants still struggling
The eased assembly ban does little to help hotels and restaurants recover from the Coronavirus Crisis during the summer, according to trade association Horesta.
The association said that many establishments do not have conference rooms big enough to allow 100 people to gather at a distance of one metre apart, reported TV2.
Hotel managers expressed hope that the government will also ease the distancing requirement soon for them to save their businesses.