Things to do
Holiday 2020: A day in the life …
---
This article is more than 3 years old.
… most invariably involve 'hygge' and the 'kolonihave' in Denmark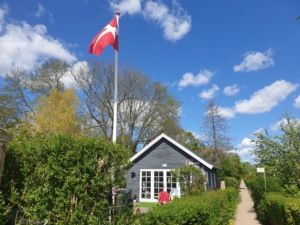 Danish concepts and ambiances can be very difficult to pin down. They cover moods where enjoyment, nature, day and evening ambiances closely combine to add up to a love affair and end on a higher plane of intimacy in twilight, candlelight or daylight.
Radishes and residences
It can be difficult to define the Danish expression 'hygge' (very roughly 'cosiness'), but once you have experienced it, you are in no doubt when you meet it again. The ultimate Danish summer hygge has to be allotment hygge.
Originally called a kitchen garden, the allotment became a sort of recreational area for working-class families from the inner cities. It was a little piece of ground you could rent where you could grow fruit and vegetables – a good and healthy supplement to a poor worker's diet. Not least, it provided a feeling of having a bit of nature – a haven away from all the hard work, and at a price a worker could afford.
Allotments can be found everywhere in the suburbs of Copenhagenand other cities, and in 2020 it is quite normal to find a house on one of these plots. Today, it is more often middle-class people rather than workers who rent these allotments, and it's quite normal that houses and other facilities are built on them.
The capital came first
Copenhagen's oldest allotments, which date back to 1893, are the 'Vennelyst' in Christianshavn. While Frederiksberg, not far from the centre of Copenhagen, hosts the almost equally old Haveforeningen Grænsen.
A cosy little gravel path between Peter Bangs Vej and Finsensvej hosts a myriad of different types of houses and plants – gardens full of beautiful flowers and almost in bonsai format.
There are three other allotment associations along the same path in addition to Haveforeningen Grænsen.
Within the rules
In order to establish an allotment area you need at least five plots that on average shouldn't exceed 400 square metres. Additionally, it is only permissible to stay there during the period from April to October. Living there permanently is, in principle, not allowed by any of the allotment associations.
Allotment associations can be independent but can also be members of the Kolonihaveforbundet allotment federation. You can't own an allotment – only buy the right to rent the plot with house and garden.
Allotment life is a very cheek-by-jowl affair, encompassing as many different types as can be found on a plane on the way to New York or Tokyo for example. People are often reflected in the creative way they furnish the house and its appearance behind the hedge. There is everything from super luxurious huts to tents, or houses that remind you of the buildings in the Free State of Christiania. Each allotment association has its own rules in addition to those set out by law.
But it is a free area where you can paint your house yellow and your fence green. People with allotments improve the quality of their lives by getting to grips with the earth and attaining a very relaxed – and not least 'hyggelig' – ambiance and lifestyle.
Easy to rent
There are at least 65,000 allotments in Denmark, if not more. Allotments were originally owned by the state and municipalities, but DSB Ejendomme, the property arm of the Danish national railway operator, owns a significant amount of allotments, although it operates them under different rules. In addition, other allotment associations can be privately established.
Should you come past one of these cosy small houses you can often see the Danish flag flying in the blue sky and smell the coffee brewing. There is a strawberry tart on the table and the buzz of both bees and people in the gardens.
It may even be possible for you as a tourist or temporary resident of Denmark to rent one of these sought-after allotments. You can walk down the path and, with luck, find the association's secretary or talk to some of the residents over the hedge. The people who live in these houses are open and welcoming, enjoy their allotment life to the full and, not least, are sociable; you have to be when the hedges are close and you are living on top of each other.