News
International Round-up: Denmark called upon to take action over stranded Maersk vessel
---
This article is more than 3 years old.
Elsewhere, Denmark doubles WHO contribution fund, Jutland police assist England in conducting murder investigation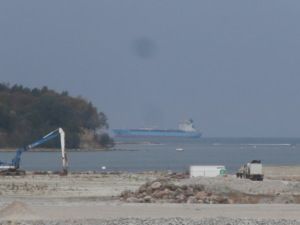 Malta remains adamant it will not admit 27 migrants picked up by a Maersk ship near its waters, instead calling upon Denmark to intervene. The ship bears a Danish flag, after all, one of its ministers said yesterday.
The vessel has been in limbo in Maltese waters for a month after the island refused to admit the migrants.
Matters escalated on Sunday after three of the 27 migrants jumped overboard. The crew immediately asked for humanitarian relief for those stranded on the 'Maersk Etienne'.
It is unclear whether the three migrants' escape was an attempt to reach Malta or an act of desperation.
Situation "unsustainable"
In the meantime, the authorities in Denmark are scrambling for a solution.
Maria Skipper Schwenn, the head of safety, environment and maritime research at Danske Rederier, deems the situation "unsustainable".
She said the events of Sunday morning showed how "desperate the situation" has become.
The Maersk Etienne rescued the migrants on August 5 from a boat that sank shortly afterwards. The ship had been alerted a day earlier to its whereabouts by the a Maltese rescue centre.
---
Joint UK-Danish murder investigation gathering steam
The police forces of Southeast and South Jutland have been assisting their British peers in a murder investigation and, between September 1 and 4, several investigators from the Greater Manchester Police visited Denmark to follow up leads in relation to the death of an English woman in 2017.  The deceased was on a trip to Denmark when she drowned near Varde. The case was formerly dropped in December 2017, but then reopened in mid-2018 after the English police received crucial information.
Denmark raises aid contributions in light of coronavirus
The 2021 Finance Act has allocated 70 million kroner to promoting health in the world in the aftermath of COVID-19 – most particularly in developing nations. The amount is double that allocated in the 2020 budget. Additionally, Denmark has allocated over 100 million kroner to the World Health Organization to assist it with its handling of the Coronavirus Crisis.
Danish green energy company set to build Sweden's largest solar park
Copenhagen-based company European Energy is set to begin the construction of Sweden's largest solar park. The park will aim to supply sustainable electricity to 10,000 homes a year. It will be located outside Helsingborg, a coastal city in southern Sweden that many travel to from Denmark by boat.
True Cousins to participate in UK racing event
Danish drag racing outfit True Cousins is set to perform at the drag racing event 'NOT The Euro Finals' from September 11-13 at Santa Pod Raceway in the United Kingdom. The outfit will try to beat the overall standing 1/4-mile World Record for electric vehicles. With the ongoing pandemic, the event will however be open to a limited number of spectators.