News
Local Round-Up: Copenhagen Airport to reduce capacity by 40 percent until 2022
---
This article is more than 3 years old.
In other news, the Carlsberg Silo will soon be ground zero as plans have been confirmed to demolish it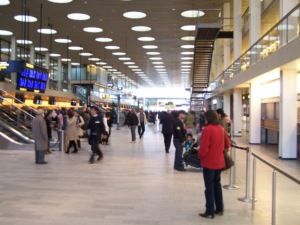 From November 25, Copenhagen Airport is reducing its capacity by 40 percent.
Due to the global pandemic, the number of people travelling through airports has fallen by as much as 90 percent.
Last year, Copenhagen Airport saw around 83,000 passengers a day during the winter months, but today it only has 5,600 daily travellers.
With such low traffic, there seems little reason to keep the whole airport open, so the airport has made the decision to close 24 of its 78 gates.
Airport not expected to reopen gates until 2022
The gate closures are continue through 2021, with the possibility they could be reopened with two months notice should passenger numbers suddenly rise.
However, it is not expected that demand will increase to the point they will need to reopen the gates until 2022 – at the earliest.
The decision paints a bleak future for the travel industry. Retail and restaurant outlets inside the airport have been assured that passengers will still have access to their shops – but only 20 of the 140 businesses in operation before the crisis remain open.
---
UNICEF celebrating Children's Day with Lego planet
Commuters heading through Copenhagen Central Station may have noticed the new presence of a bright blue globe covered in Lego buildings. The globe is part of UNICEF's Children's Day celebrations on November 20. It features 430 Lego creations by children from all around the globe. Lego hopes the artwork can showcase children's creativity and unite us in the hope of rebuilding the world together.
Authorities working together to ensure safe Christmas shopping
With the Christmas period fast approaching, the police, City Hall and shop-owners are working together to keep Christmas shoppers safe this year. New measures are being taken across central Copenhagen, including a 1.6 km long strip down Strøget to encourage shoppers to keep their distance. Shops will be encouraged to manage the flow of customers and to stick to maximum customer limits. Official corona guideline signs are getting into the festive spirit by wishing people 'God jul og god afstand' to encourage cheerful social distancing.
Socialdemokratiet and Enhedslisten neck-and-neck for votes in Copenhagen
If there was a municipal election tomorrow, Socialdemokratiet and Enhedslisten would receive an almost equal amount of votes – according to new polling by Epinion. Socialdemokratiet is only slightly ahead, with 23.8 percent of the vote, compared to Enhedslisten with 22.2 percent. It shows a drop of about 4 percentage points for Socialdemokratiet – possibly due to a negative public reaction after former mayor, Frank Jensen, was forced to step down. The opinion polling could have consequences for the mayoral elections  next year, but while Socialdemokratiet has already put forward Sophie Hæstorp Andersen, Enhedslisten have yet to choose a candidate. Should the left-wingers prevail, it will break a long tradition, as every single mayor of Copenhagen has been Socialdemokratiet.
Carlsberg Silo landmark to be torn down
The Carlsberg Silo, 88 metres high and a hallmark from the 1960s, is to be torn down along with its surrounding buildings to make way for a new complex. When the silo was converted into office buildings in 1997 to principally house Carlsberg, it became Denmark's tallest office building. Residents in Vesterbro will now have to bid farewell to the silo, which was originally designed by Svenn Eske Kristensen, along with the Carlsberg sign that has lit up the night sky for so many years.