News
Historic moment! Inger Støjberg handed impeachment trial 
---
This article is more than 2 years old.
Not too dissimilar to the Trump situation, the former immigration minister's own party voted in favour of going to court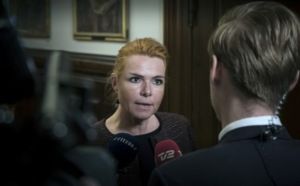 Today, a vast majority of Parliament voted in favour of Inger Støjberg, the former immigration and integration minister, standing trial for impeachment.
Her own party Venstre also voted in favour. It was a decision that was difficult, but necessary, according to party leader Jakob Ellemann-Jensen.
"It's my conclusion that an impeachment trial is the only course of action to shed light on the serious accusations being faced by Inger Støjberg and therefore Venstre," Ellemann-Jensen wrote on Facebook.
Government party Socialdemokratiet also voted in favour, as did Konservative, Enhedslisten, Radikale, Socialistisk Folkeparti, Liberal Alliance, Alternativet and Frie Grønne.
READ ALSO: Former immigration minister could face impeachment trial 
Under heavy fire
A commission assigned to look into the situation had released findings that were highly critical of Støjberg's actions as immigration minister in 2016.
Among other things, the commission concluded that her order to separate couples seeking asylum, in which one of the couple was a minor, was illegal – and that she was made aware of that fact.
Afterwards, she was involved in misleading Parliament about the situation, the commission found.
READ ALSO: Former immigration minister blasted over Trumpist rhetoric
Historic moment
This is a very dramatic turn of events as there have only been five such trials in Denmark since 1849. 
The most recent such trial took place in 1995 when the former justice minister, Erik Ninn-Hansen, was impeached and sentenced to conditional imprisonment for his role in the Tamil Case.
Before that, the most recent impeachment trial in Denmark was back in 1910.
Echoes of Trump
Støjberg is perhaps best remembered for having a cake to celebrate her passing the 50th law cracking down on immigration in Denmark.
More recently, she came under fire after calling for ministers to "drain the swamp" – a phrase now synonymous with the politics of US president Donald Trump.
Trump himself is being impeached following a vote by the US Congress yesterday. As was the case with Støjberg, members of his own Republican party also voted in favour of his impeachment.