News
Love is for the way you …
---
This article is more than 2 years old.
To mark this year's Valentine's Day, 22 CPH POST readers share the stories of how they met and fell head over heels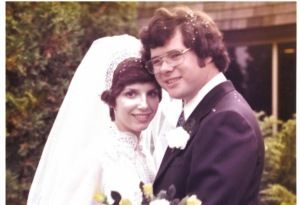 Love is magical, and love is all around. We celebrate love on Valentine's Day, but really love is every day. But this time, let it be you, our readers, who tell us what love is.
We compiled a selection of 11 love stories that couldn't be more different, yet are all the same. They are simple yet extraordinary stories of how two people found each other, grew together and how much they love each other.
Whether we meet via modern day dating apps, travelling, or bumping into somebody who only lives two blocks away, the end result is the same: lives together by compassion and love.
---
Ted and Louise
We met in September 1973. I was 20 and Ted was 24. He was applying for jobs at the company where I worked as a service personnel secretary. I helped him to complete the employment forms.
His address was only two blocks from where I lived. His family had lived there for many years, but we had never met. I was attracted to his sense of humour and his eyes. He smiled with his eyes.
A week later he asked me out for a date. I already had a date. He suggested that I should cancel and go out with him instead. He was very persuasive. I cancelled and we went on our first date. After our second date we were talking about getting married.
Asking my father for permission, we got engaged at Christmas and were married in September 1974. The following years were busy, working and raising two wonderful sons. We have six beautiful grandchildren and a strong connection to Denmark through family.
Our eldest son lived in Denmark with his wife and four children. We have visited them often over the years and have enjoyed many of Denmark's traditions whilst exploring the country. Happy and healthy, we bought a convertible and are having fun. This year we celebrate our 47th anniversary and look forward to many more.
---
Barbara and Nick
We met on an app where he clicked on me first, I clicked right back. We started to talk through messenger and decided to meet up. 
He lived in Herning and I was still living in Aalborg. We agreed that he would come to Aalborg, but he didn't! At the time he said his car broke, later he confessed that he drank a little too much with friends so couldn't drive, which we still laugh about. Luckily, I had a voucher from FlixBus so I went to Herning to meet him instead. It was absolutely awesome, it felt like we had known each other for a long time. There was really no awkwardness or weirdness!
We started to chat middle August, a month later we become a couple. November 14, we got happily engaged and in December I moved to Herning so we could start our lives together. So, everything happened in five months, we matched online, met in person, got into a serious relationship, got engaged and moved in together. And we couldn't be happier!
---
Erika and Jonathan
My name is Erika, from Italy, and I was studying at university in 2004 when the tsunami hit in Asia. I took a chance, and I went to volunteer in Sri Lanka as a disaster relief aid. There I met Jonathan, a French guy who lived in Denmark and was there for the same purpose. He opened the doors of the place where the volunteers  stayed and helped carry my bags! My English was very poor, yet we still managed to have fun and talk. 
We fell in love and decided to move to Denmark in the summer of 2005 together. He learned Italian and I learned English and Danish. I dropped out of university and everything changed. I started university in Copenhagen, and we have been together ever since.
We got married in 2015. Before having our kids, we spent one year in South Africa but decided to come back to Denmark pregnant with our first child. Now we have two beautiful children: Lily who's six years old and Tristan who's just a month old.
---
Stina and Jim
Love didn't bring me to Copenhagen, but it found me here amidst the pandemic. Jim and I met on a Tuesday night towards the end of 2019, when walks around the lake were novel and not the default. We were both expats living and working in the city: he as a Swedish architect and I as an American in product at a startup. We had biked on Dronning Louises Brø and clicked a heart on Happn after.
Our lives were in transition at the time, so we became friends. Swan watching walks around the city turned into coffee. Coffee turned into dinner. Dinner turned into flowers or plant clippings. A text became a call. A call became a letter. Space for love expanded unbeknownst.
It was May during Denmark's first lockdown that it first clicked. We drove to Møns Klint. I couldn't tell you the exact moment I knew I loved him that weekend. But I looked over and saw a person that I wanted to share life with. In July, a second click. I met his daughter Pil.
It's hard to imagine the relationship beginning outside the context of the pandemic. 2020 required me to move through and surrender in order to love bravely. I grieved future plans with loved ones abroad, a job, and a new normal full of restrictions. In doing so, I gained and expanded, blending a new family full of memories and freedom in the present. Click. click. click.
---
Radoslava and Christian
"The fries and the floofs"
In the spring of 2017 Radoslava (aka. The fry) was swiping through a dating app in search of …  whatever. The fun of modern dating was over and the thought of "getting to know" someone new was tiring. She kept on swiping, mainly because it became a habit or a social activity with my girlfriends. One way or another Christian (aka. The other fry) swiped right on me. The reasons are long forgotten now. He initiated the communication with a smartsy line, forgotten as well, but the present shows it worked! One text led to another, then a date, and some more. 
The relation started to look more like a relationship. Nicknames such as "the fry/fries" became a reality. In my defense, he came up with it. At some point we moved in together and adopted our first floof: a male cat named Bam: annoying but hella lovin'. A second one entered our lives a year later: a much less annoying female named Chloe. 4 years later our days go by with a lot of food, love and arguments about where the socks are supposed to be. I know we sound like any other couple but what makes us "spicey" is our obsession with the floofs. Assuming the neighbours know us as that "weird cat people", because who else would be taking their cats out for a walk?
---
Keri and …
I didn't even know he was a Dane. 
I saw his pizza first. It lured me in with its crispy crust, as all thought of my friends waiting for me on the other side of the bar to return with the next round of drinks flew out of my head. It was a warm, February night in my hometown Wellington (New Zealand), the kind that makes you wonder why you would want to live anywhere else in the world.
"Where are you from?" I asked Pizzaman, going in with the big questions first. The alcohol encouraging me fearlessly in my line of questioning. My money was on he was from either Germany or The Netherlands.
A smile, possibly a grimace, moved over his face as he replied, "Denmark.". 
An image of pastries and a pint-sized mermaid statue immediately jumped into my head. "Ahhhh, Denmark. Been there, done that," I said, or so I thought having visited the land of the Vikings many years earlier.
"Good pastries. Not sure about the brown bread and herring thing, though. But come and meet my friends so we can swap travel stories. It was a typical friendly Kiwi invitation that he seemed genuinely shocked with. Nevertheless, he followed and that was all it took to send me on a journey towards a life in Denmark (as well as a lifetime of trying to correctly pronounce the Danish word for bread). 
Ten years later I'm still trying to work out how to live with a Dane. An entertaining scenario I decided to share in a book called 'Nothing Like a Dane' (available soon) it's a snort inducing tale of what it's really like living with a Dane (and the dangers of pizza).
---
Beata and …
Standing outside the airport, looking at my watch for what feels like the hundredth time. Minutes are dragging by and my stomach fills up with the flutter of butterflies' wings. 
I am nervous but excited. Head filled with "what ifs", best and worst scenarios. I haven't seen you in over five months. What if you remember it differently? What if we don't have it anymore? 
And then one second I feel my heart about to explode in my chest. You're there and I'm running before I realize what's happening. You drop your bags and hug me so tight all the tension goes away. 
Our eyes lock and it's like no time has passed. We have two weeks before you have to go away and the wait begins once again. Two weeks of just you and me. Two weeks for adventures, for exploring places and experiencing as much as we can. 
When I'm alone, it doesn't feel right. I question everything, wonder why and get tired of phone calls with no touch or closeness. When we're together, I feel whole again. Everything falls back into place.
As William Shakespeare once said: "The course of true love never did run smoothly." Going through bumps on the way are worth the destination at the end.
The pandemic turned lives upside down. But it hasn't changed what I feel for you and it hasn't changed the way you look at me. A lot has changed. But not between us.
---
Angie and Trygve 
Ten and a half years ago, on a backpacking trip from Canada to Costa Rica, I scored one of the last hostel beds in San Diego (this was during the summer, so hostels were pretty much full).
When I opened the door to the hostel, there stood 20+ tall, tanned, blonde, blue-eyed Scandinavians who were looking to start their semester at SDSU and were told to start their adventure at the Banana Bungalow hostel. I was stunned (cheerleader effect, I guess?). I then proceeded to check-in and head to the kitchen to make myself a sandwich for dinner.
There, I literally bumped into Trygve. A Bornholmer-Dane, on an exchange from DTU – we went to the bar crawl that night, I couldn't pronounce his name for the life of me, but the rest is history. Today, we live in Copenhagen with our 18-month-old daughter Robyn.
---
Ildikó and Kasper 
Our stories started in October 2020 in the midst of the pandemic.
I was single for a long time, so my friends recommended a dating app for me to try. At first, I was sceptical, but I thought I can't go out or do other things where I can meet new people, so why not?
After I downloaded the app, I came across Kasper. We had talked a lot and then we agreed to meet. Unfortunately, it wasn't possible for us to meet for a while because both of us were busy. But finally, we managed to meet.
The first date, however, was a little different. When we met, my roomie had to assemble an Ikea piece of furniture, so when Kasper arrived, the first thing that happened on the date was that he had to help with that. It was a little strange as he did not get much time to talk to me and it took three hours before they had finished.
Despite that, it went just fine in the end, and we ended the day with a lot of wine and watched a funny movie to compensate for having to read through an Ikea manual most of the evening.
Subsequently, we continued to meet with each other, and today we have been together for over four months. We both hope, we can gather more furniture together that brought us both together in the first place.
---
Liesel and Marcus
Marcus and I met through a dating app in the spring of 2018. We agreed that it would just be a 'summer fling' because I was moving to the Netherlands in six months' time.
When I met him, I thought what a typical Dane: blue eyes, tall, although not that blonde. I guess it was love at first sight. We spent the whole summer together until the day I had to move. It was difficult for us to part ways, as we had spent so much time together.
After staying in the Netherlands for two months, I came back to Denmark and we took the risk of living together. It must've been love! And after two years of living together, Marcus proposed.
When we got married in October 2020, we only invited his parents and two brothers, along with a photographer, because of the restrictions on gatherings. We ended up dining on pizza and wine. We never thought we would become Mr and Mrs Krebs.
---
To Grandma with Love 
No wonder you were born on Valentine's Day.
You are a woman of love, we'll never forget. 
Grandma, what you felt for us,
how you cared and what you did.
You showed how huge one's heart can be,
when it's filled with love and only love.
Because you knew
love is pure, love cures it all.
And when a new tomorrow dawned,
you always chose to see 
the beautiful things in this world,
like your green, green garden.
Or the little birds
that sat outside.
How you talked to them,
Grandma, I will never forget.
You were so wonderful,
so strong, so gentle, so warm.
And most of all,
and that impresses me still,
no matter what happened in life.
You chose love,
you are love. For good.
Too often you had to feel great pain,
and still:
you took the pain,
pulled it close to your heart
and let the sorrow turn bright.
You made good out of life, no matter how hard.
This was beautiful.
This showed me who you are:
A woman of love, we'll never forget.
I told you I was moving abroad,
to Copenhagen, not that far.
You smiled and said: "Take your heart with you".
I did and took yours with me too.
Now I am here,
and missing you, your voice, your smile.
But when I look outside the window,
I see the trees, the leaves, the birds.
and I see you – singing your songs.
And I listen to you.
Like you listened to them in your green, green garden.
Grandma, you are a woman of love, we'll never forget.
–
A love poem to my grandmother Hansi 
* 14/02/1934  – † 19/06/2020