News
National Round-Up: Circumcision ban would be respectful of Jews living in Denmark, argues Støjberg
---
This article is more than 2 years old.
To complete the number of the beast theme, a sixth of the population opposes the new corona pass, and a sixth of all Facebook users have had their sensitive data leaked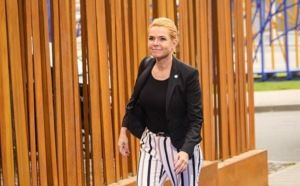 Inger Støjberg, the former minister for integration and immigration, has called for a circumcision ban for all boys over the age of eight days.
Writing in her Berlingske column, the 'løsgænger' (non-attached – TV2's choice of words, not ours) MP explained she had chosen the eight-day ceiling because a traditional Jewish circumcision tends to take place on the eighth day of the boy's life.
Jews over Muslims
Muslims, on the other hand, tend to get circumcised much later, and Støjberg conceded she was putting the needs of the estimated 6,000 Jewish people living in Denmark before its 320,000 Muslims – mainly due to a promise made to them after World War II that they could live safely here and follow their traditions.
"The Jews have always lived in peaceful coexistence with the rest of the Danes. They have never made special demands or demanded that society should conform to Judaism," she wrote.
READ MORE: Denmark refuses to ban the ritual circumcision of boys
"If you look at terrorism or just their everyday demands, there are far too many Muslims who, in my view, cannot figure out how to conform to Danish society."
Speaking personally …
However, she also confessed that she personally thought children should not be circumcised.
Ideally, individuals would be allowed to decide for themselves once they have hit 18.
But a promise is a promise, she maintained.
---
New version of the British variant detected
A new variant of the coronavirus has been detected in Denmark – or more precisely it is a new variant of the B117 British version, which carries the E484K mutation. Two cases of the new strain were found over Easter, and it is a worry as it is less sensitive to the antibodies provided by vaccination or having been previously infected. The E484K mutation is also found in the South African variant B1351 and the two Brazilian strains P1 and P2. The health minister, Magnus Heunicke, has confirmed that 'intensive infection detection' has been used, so not only have all the close contacts of the carriers gone into isolation, but also all their close contacts as well – the same strategy employed when the South African and Brazilian variants are detected.
One sixth oppose corona pass
Exactly two-thirds of the population approve of the corona pass that is necessary to visit personal service proprietorships, according to a Voxmeter survey for Ritzau carried out from March 30 to April 3. From April 21, it will be necessary to have a pass to dine outdoors at a restaurant or visit a museum or library, and from May 6 to dine indoors or visit the cinema or theatre. Some 16 percent said the pass was a bad idea, and 13 percent did not know.
Tobacco no longer on view in shops
New laws governing how tobacco products are displayed in shops kicked in from April 1. It is now illegal to display both tobacco products and e-cigarettes and only permissible to show them when a customer asks for them. The new laws are in line with the Smoke-free Future initiative, which hopes to reduce the number of young smokers to zero by 2030. In the four years since its launch, the number of daily teenage smokers has halved from 12 to 6 percent. 
READ MORE: Young smoker numbers halved: Smoke-Free Denmark here we come!
Fewer than six in ten 'indvandrere' move on to upper-secondary school
Denmark likes to throw the immigrants of non-Western countries and their descendants into the same group: for statistics mainly. It then enables the likes of Danmarks Statistik to use statistics to prove the 'indvandrere' are failing. In 2020, an assessment of all 25-year-olds revealed that 58.1 percent of the group completed their education at the age of 15 or 16 – the lowest rate since 2013. In 2017, numbers peaked at a respectable 67 percent, while an all-time record of 70.4 percent was reported in 2005. Nationally, the figure was 79.9 percent – a repeat of previous years, but a steady improvement on 75.7 percent in 2010.
Huge Facebook leak leaves a sixth of users in Denmark vulnerable
Around 15 percent of the country's 3.7 million Facebook users have had their sensitive information leaked, it has been confirmed. In total, the personal data (including telephone numbers) of 533 million people worldwide, including 600,000 in Denmark, was leaked on an online forum on Saturday. Peter Kruse, the founder of IT security company CSIS, told Kristeligt Dagblad the leak itself is not that serious, but warned Facebook users to be particularly vigilant when answering messages from unknown senders or strangely-phrased ones from known parties. According to The Verge, it is possible to see if your email has been leaked via haveibeenpwned.com.
Fewer rejected asylum-seekers returning home
As of April 2020, there were around 1,100 rejected asylum-seekers in so-called 'exit positions', reports Politiken, but very few depart. Just 67 were successfully sent home last year, compared to 200 a year in both 2017 and 2018 – although these numbers do not include voluntary departures. The coronavirus has not helped, of course, and neither does a lack of co-operation – for example, it does not have any official arrangement with Syria, a country it is anxious to send many people back to. "It is politically legitimate to want to send more Syrians," Danmarks Videnscenter for Integration founder Rasmus Brygger told the newspaper. "But when we can see this rarely works, we risk being in a situation with hundreds, if not thousands, of rejected asylum-seekers at Danish exit centres, and no-one wins." 
Stateless sisters seeking legal action to overturn citizenship denial
A storm is brewing over the future of Danish-born, Somali heritage, Syrian-based twin sisters who lost their Danish citizenship last October. Born in Denmark, they grew up in Britain and do not speak Danish. However, Britain cancelled their residence permits after they left the country to take up residence in the Islamic State caliphate in 2014, where they married IS warriors, gave birth and were widowed. One of them subsequently lost her child. The Danish state contends the pair are Somali nationals, even though they don't hold citizenship and are in fact now stateless. They are accordingly taking legal action to get their Danish citizenship.