News
Food & Drink Round-Up: Once ØNSK, coffee-lovers never go back
---
This article is more than 2 years old.
And for ice cream, it's got to be Bon Bon Ice, so what's stopping you from voting for them to be the best parlour in Denmark! They need your vote in hundreds and thousands!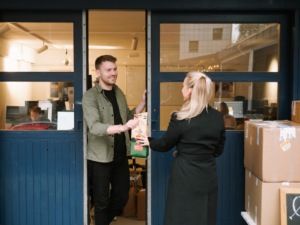 Nørrebro-based coffee importer and roastery ØNSK has reported soaring online sales during the corona lockdown, alongside a surge in subscriptions for its coffee beans, which are exclusively sourced from Nicaragua, a country where fair trade makes a difference. 
Since founding the company in 2017, co-owner Rasmus Ditlev has overseen steady growth with a focus on sustainability, and today the company employs ten people. From its office and warehouse, just around the corner from Superkilen, it services 250 companies and maintains deals with Irma and Aarstiderne.
In 2020, it sold 26 tonnes of coffee, and Ditlev is confident that sales will continue to increase – particularly as "we also plan to start importing from a new country this year," he told CPH POST.
Consumer connection
Connecting the coffee growers with the consumers is an essential component of the business, explains Ditlev.
"Our purpose is to create authentic coffee experiences that connect coffee farmers and coffee drinkers through high quality, development projects and direct trade," he enthused.
"We are able to show exactly where the coffee our customers drink come from, and vice versa we also give the producers a chance to see how their product is consumed and by who. We do this through online coffee tastings."
Ideal for surviving winter
Ditlev swears by the ability of the company's Nicaraguan coffee to soothe the nation's weariness with winter.
"We've found that the flavour profile very well suits the people of Denmark, which could be because of the cold and chilly weather," he said.
"It is grown in volcanic soil, which gives the coffee a consistent high quality. The flavour is very rich and heavy, with a long and sweet aftertaste. You'll typically find notes of chocolate and caramel, along with a light hint of citrus."
---
Pat the elephant! Bon Bon Ice shortlisted for 2021 Best of Denmark award
Frederiksberg ice cream parlour Bon Bon Ice, which opened for its summer season on April 1, has not been lying down during the recent pandemic. After an awe-inspiring summer, of which one of the highlights was a 'black vanilla' flavour as richly dark as a Lanzarote volcanic beach, manager Nikki McKenna and her team have organised an impressive number of pop-up events – in strict adherence with the corona regulations, of course. "We're very pleased to be nominated," enthused McKenna to CPH POST. "We have been hidden [off the track] for a long time, but I think at last people have found us!" And now, call it the 99 flake on top if you please, it has made a shortlist of establishments battling it out to be named Denmark's Best Ice Cream Shop. To vote for Bon Bon, send a text featuring the message ' IS 203' to 9245 2404. In the meantime, visit them soon. "We will be making ice cream cakes and lollies this season, so something new," promised McKenna.
READ MORE: Once sampled, you'll never forget Jumbo's ice cream
Cardamom yummy! New pastry outlet has both Hart and Juno heritage
The acclaimed Coffee Collective has today launched a new outlet in Nørrebro that marks a departure of sorts for the chain, as its main focus will be pastries. Not only will Collective Bakery (Nørrebrogade 176) sell some mean-looking pastries – the cardamom braids look like they're in the same class as the offerings at Hart, never mind Juno – but they will also supply all the existing Coffee Collective outlets around town, of which there are six. "We have been dreaming of opening a bakery for years. We have always served something for the coffee at our coffee bars, but it has mostly been croissants and the like. Now we want to elevate the experience on the bread side so that it matches the coffee," co-owner Klaus Thomsen told Berlingske. And it might not surprise visitors to learn that among the team are a couple of bakers who have previously worked for Hart and Juno. Open daily from 07:00-18:00 (weekends 08.00-17:00), learn more here.
Netto reckons its climate-friendly labels will work, but others not so sure
Netto contends that not enough is being done to make consumers aware of climate-friendly choices, and it is accordingly launching a pilot project to test out a new type of label at two of its stores. The supermarket will use a database developed by the green think-tank Concito, and it will include nine sub-categories: fruit and vegetables, cold cuts, cheese, pork, poultry, fish and shellfish, ready meals, dairy, and nuts, seeds and kernels. "Fortunately, many want to make a difference to the climate and our common future. It is therefore our responsibility, as a grocery store, to make it easier for our customers to choose items with lower climate footprints," explained Netto chief executive Michael Løve. However, concerns have been raised by Økologisk Landsforening chair Per Kølster, who told TV2 that calculating footprints is highly problematic and prone to inaccuracy. 
Saluting the number one Maccy-Ds in Denmark
The McDonald's in Nyborg, a town in Funen, has been named the best in the country for 2020. A very busy July saw it notch up the best monthly sales in Danish history. However, its winning team could not celebrate among their peers, as they learned the news via a virtual ceremony. A 20,000 kroner prize will eventually, once restrictions have been eased enough, be spent on some kind of staff party. Its franchisee Michael Rolver also owns McDonald's outlets in Røde Kro, Haderslev, Sønderborg and Tønder. Overall, there are 91 McDonald's outlets in Denmark.
READ MORE: Something in the way it tastes … attracts me like no other lover