News
World famous Copenhagen cherry tree blossom has begun
---
This article is more than 2 years old.
But if you're looking for that cracking Instagram shot, be aware of the city's COVID-19 precautionary measures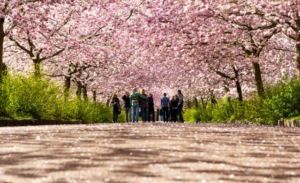 Thousands of people flock to Bispebjerg Cemetery in Copenhagen every spring to capture its beautiful avenue of blossoming cherry trees.
And while the lovely pink leaves are beginning to sprout now, the city has ushered in some restrictions due to the COVID-19 pandemic. 
"We still have a gathering limit and you must keep your distance. The restrictions are necessary in order to open the alley, but it means you can cosy up for a picnic and there is a risk of queuing to get in," Jakob Hjuler Tamsmark, a Copenhagen Municipality spokesperson, told TV2 Lorry.
READ ALSO: Copenhagen eyeing new bicycle bridge
Avoid the crowds
The specific measures being taken by the city include cordoning off certain paths and making others one-way. 
There will also be a queue system in place and visitors are urged to adhere to a walk-click-walk concept – so taking a couple of quick shots and then moving on.
The municipality will send a few guides to the cemetery to keep an eye on proceedings during the blossoming period.
Should the public refuse to adhere to the guidelines, the cherry tree alley risks being closed.
The attraction is open every day from 07:00-22:00 and the city urges visitors to try to plan to see the blossom early or late in the day to avoid queues.
Entrance to the cherry trees is only available from Frederiksborgvej.