News
Denmark signs green innovation agreement with the US
---
This article is more than 2 years old.
Bilateral collaboration to promote research development as well as the exchange of knowledge and expertise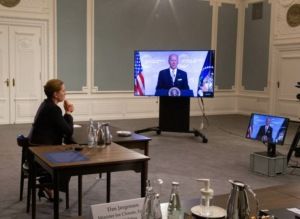 Denmark has landed a new agreement with the US that seeks closer co-operation in regards to green research and innovation.
The deal will see the two countries collaborate on sustainable fuel sources, energy storage and the use of CO2 – among other future tech pertaining to the green transition.
"The agreement is a fine example of how climate challenge solutions should not only be tackled nationally, but across the border," said the research minister, Ane Halsboe-Jørgensen.
"The US is the country in the world that invests the most in research and tech development."
READ ALSO: Denmark ranked among world energy transition leaders
Science is back!
The agreement will foster closer dialogue pertaining to specific research and innovation projects, as well as pilot and demonstration projects.
It will also promote an exchange of knowledge and experience across institutions, authorities, workshops and seminars.
The government underscored that the agreement also helps Denmark in reaching its goal to reduce its greenhouse emissions by 70 percent by 2030.
The deal, which was reached during the Leaders Summit on Climate, will be followed by joint action plans.