General
X Factor, Eurovision, pop career …
---
This article is more than 2 years old.
But for Benjamin Rosenbohm, it all started at SceneKunst, and his most treasured memories are of going to its summer school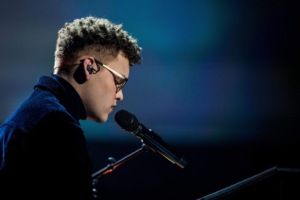 Benjamin Rosenbohm shot to fame in 2019 on Denmark's 'X Factor', taking second prize with his raw, folksy vocals and a mean hand for the guitar.
Eurovision success
He then followed it up with a runaway win at the 2020 Dansk Melodi Grand Prix as one half of 'Ben and Tan' with the pop earworm 'Yes'. 
The win should have sent the duo to the Eurovision Song Contest as Denmark's 2020 entry – but the pandemic shut the contest down completely.
Since then, the duo have put out 'Iron Heart', a synth-drenched pop belter, while Benjamin has also released a solo track, the rustic indie tune 'Worth a Broken Heart'. 
A sound work ethic
Benjamin's keeping busy as he's "used to working his ass off". He credits much of his work ethic to his time at SceneKunst, as a student and later as a helper.
A highlight of every year was the Scenekunst Summer School, which he remembers helped to further improve his acting, music and dance skills.
So how did SceneKunst prepare him for a career in showbiz? CPH POST sat down with Benjamin to hear his take.
---
Why did you go to a summer school?
My parents saw a lot of creative energy in me – I was a very hyper kid! – and signed me up for a musical drama school called SceneKunst. Its summer school sounded like fun. 
Can you tell us a bit about what you did there?
It's like a summer camp where you do singing, dancing and acting throughout the day and then hang out and do a bunch of activities with people afterwards. You do that for a week, and then at the end you perform a couple of scenes from a play or musical that you've been preparing.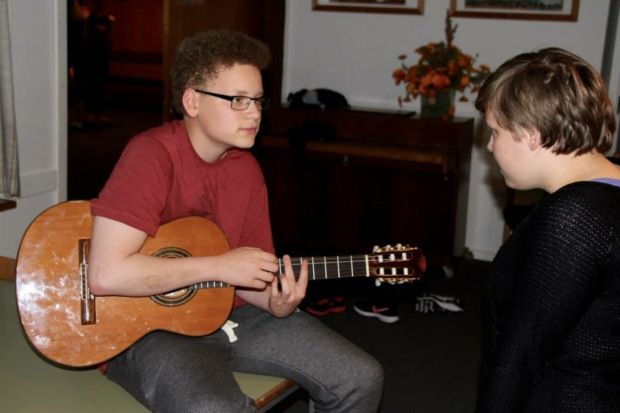 Sounds fun! Do you sleep there?
Yeah, you sleep in bunkbeds – it's so much fun! You just chill in bunkbeds with people of a similar age and stay up talking about all kinds of things. You get to know people in a very short amount of time, but very deeply, which is really cool.
Do you have any standout memories from your time there?
I have a couple from the same place. We went to a scouts' camp type of thing out in the countryside and there was a campfire there. I would always bring my guitar to these camps and I have so many memories of everyone being around the campfire, me playing music and just having a good time. It's a very dear memory to me.
What do you think you gained creatively from SceneKunst?
Constantly interacting with people and learning to be social – it was where I realised that music was the thing that spoke most naturally to me.  Also, you're expected to memorise a lot of content in a short amount of time and then make something with it, which is a quality I think everybody can benefit from. It's especially relevant to me now because I sometimes get rung up a week beforehand asking "Hey, can you play this gig?" or "Hey, can you write a song with this person?" The sooner you get used to that work ethic, the better.
What are the teachers like?
They're musicians, actors and dancers. A lot of them have projects going on outside of SceneKunst. Some of them were experts in choirs, had dancing gigs, or acted in ads and shows outside SceneKunst. So that was also really inspiring – that the teachers were active in the creative scene in Denmark.
Could you go to SceneKunst without any musical training or experience at all?
I think so, because what's cool about SceneKunst is that all the teachers are very open to the level you're at. Let's say you've never danced before, stood on a stage, or sung a note in your life – the teachers will take you through, step by step. They might say: "These techniques can help you sing better" or "These choreographies are not too hard." It's a place where anyone can be a part of the creative stuff.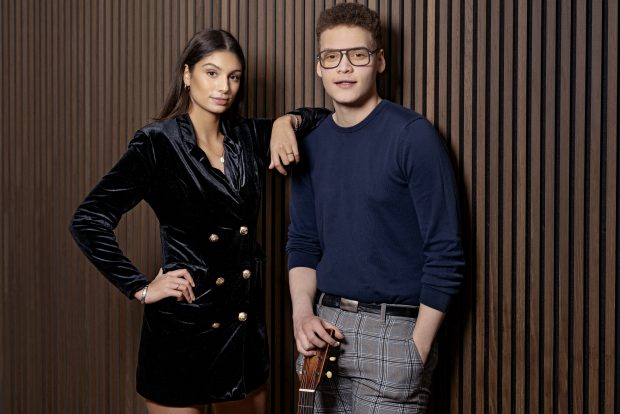 What about if you're more experienced?
The teachers are so well-educated that I, for example, was able to get a lot more out of it than I had expected. They adjust to your level and can provide more advanced teaching like intonation and breath work in singing. The more you want from SceneKunst, the more they're going to give, and the less you understand, the easier they're going to go on you.
What would you say to someone considering going to SceneKunst?
Firstly, I would say be prepared to make a commitment. A lot of the time people think school's more important, or that it's just a free time thing. There's a good amount of discipline at Scene Kunst, and the vibe is best when everybody is on board with that. Second, if you want any kind of creative outlet – and I really mean any – there's going to be something at SceneKunst that will speak to you. Personally, I wasn't much of a dancer – I'm still not! – but there was so much else that I enjoyed. It's amazing to work so hard with so much material and to be able to perform something at the end.