News
Danish-based Serbian playwright wins prestigious Reumert theatre award
---
This article is more than 2 years old.
Tanja Mastilo, the resident dramatist at the Why Not Theatre Company, walks off with the prize for 'Årets dramatiker' for her work on 'The Cheyenne Are Leaving', a powerful play staged last autumn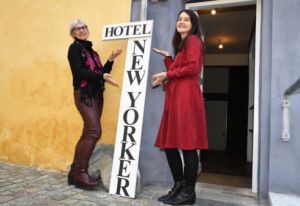 The Danish-based Serbian dramatist Tanja Mastilo, the resident playwright at the Why Not Theatre Company, has won a prestigious Reumert – Denmark's top theatre prize.
She, and her Why Not Theatre colleagues, recently attended the Reumert Awards of the Year show in Odense, where she was surprised to be confirmed at the 'Playwright of the Year' ('Årets dramatiker') for her work on 'The Cheyenne Are Leaving', a powerful play staged last autumn.
"We are over the moon, overwhelmed and a little bit hungover!" revealed the theatre's Facebook page following the victory.
READ MORE: Reumert nomination for Why Not Theatre Company's resident playwright
Jury: it was brilliant!
As is the case with all the Reumert awards, which this year also included a prize for Esben Smed for Best Actor for his work on the Royal Danish Theatre production of 'Hamlet', the jury provided its reasoning behind its selection.
"Tanja Mastilo's psychological chamber play in English is steaming with disturbing, intense presence when a young desperado on the run from a civil war calls in on an elderly writer in a barricaded tower block," it applauded. 
"Raw and poetic lines grow into a refugee nightmare, peeling back the skin of civilization to reveal a bleeding humanity beneath. Brilliant!"
Humbled by the praise
Mastilo was herself humbled by the praise, she told CPH POST last night.
"It felt very surreal and totally overwhelming. It still does! I'm so humbled by the fact that this text was noticed and appreciated and, as happy as I am to receive the award, I'm even happier that it's for this text," she said.
"I really poured a lot of myself and my feelings into this text, so for that to be acknowledged and awarded, it's very gratifying," she said. 
Not really a corona evening!
Recent award shows have been something of a damp squib due to corona, but Mastilo was impressed by the effort of the organisers.
"The ceremony itself was lovely and I thought very well organised: beside the fact that you had to show your corona pass and that half of the seats were empty, you couldn't really tell that this was a 'corona evening'," she said.
"I think people were just happy to be together, dressed up and to celebrate – for a change!"
Critics like sheep
Despite the award, it is a mystery why the critics were not praiseworthy of the play when it was staged last autumn, given that the acting and production values were top notch throughout. 
Bar CPH POST and Scenekanten, which gave the play six out of six stars, the vast majority only gave it four, suggesting there is a sheep mentality among reviewers.
XQ28, Frederiksborgs Amts Avis, CPHCulture, Kulturtid, Kulturkupeen, Morten Hede/JP and POV International all gave it four, while most mainstream newspapers ignored it. Fortunately the Reumert jury took a different opinion.
READ MORE: Theatre Review: Far from leaving with the Cheyenne, we waited with Sitting Bull wanting more
Third Anglo theatre triumph this century
Anglophone actors and writers are rarely nominated for Reumerts, but there have been a few successes over the years. 
Actor Benjamin Stender won Best Newcomer for 'The Woman in Black' (That Theatre) in 2013, while British director Barry McKenna was part of the team who won the 'Stor lille forestilling' award for 'Flammens Muse' in 2008. 
Mastilo saw off competition from Line Knutzon, the writer of 'Livstidsgæsterne' (Betty Nansen Teatret), and Andreas Dawe, who created 'Forræder' (Randers Teater).
Praise has meanwhile been flooding in from other Anglophone theatre groups including London Toast Theatre, That Theatre Company, HIT International and the Copenhagen Theatre Circle.