Sport
Euro 2020: Divided loyalties
---
This article is more than 2 years old.
Three families representing Denmark and its Group B opposition talk about their divided loyalties when national pride is at stake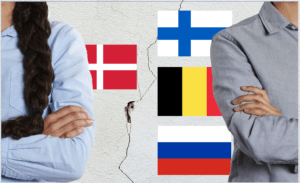 Euro 2020 this summer promises to be special on so many levels.
It will be the first – and maybe the last – time that a major football tournament will be co-hosted in Copenhagen. 
Sure, COVID has been a damp cloth on what could have been a monumental summer of football – fan travel has been significantly curtailed – but there is no denying that the buzz has been mounting.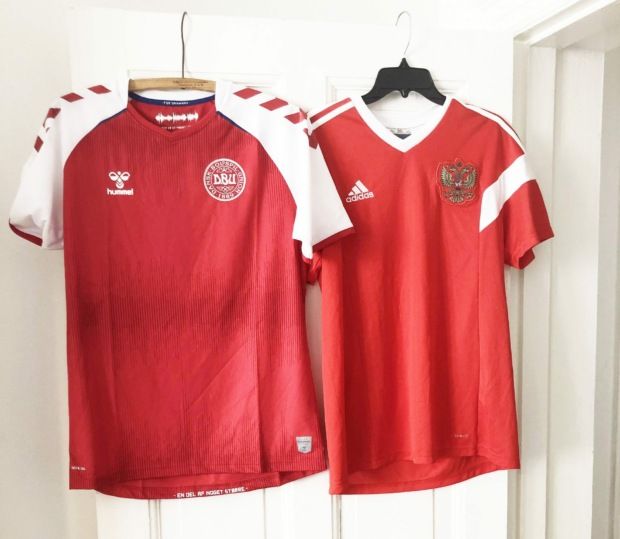 Pledge of allegiance
And there is an added element of excitement for a certain group … the mixed nationality families. More specifically, those who have links to Denmark as well as the countries in Group B: Finland, Russia or Belgium. 
It can be jovial, mischievous and volatile … all at the same time. With national pride at stake, even children are not off limits when it comes to securing allegiances. 
Married to a Russian, I myself am no stranger to such sentiments. 
Fathers and daughters pitted against mothers and sons. Even that estranged uncle who smells of pipe tobacco and musty old football socks gets drafted in to make up numbers. The gloves are off!
So to this end, we caught up with three families in Denmark who face this very predicament: having links to Denmark and either Finland, Russia or Belgium. 
From Finnish saunas and Belgian sausages to Russian BBQs and Danish beer … there was ample banter kicking about ahead of Euro 2020.
---
Finland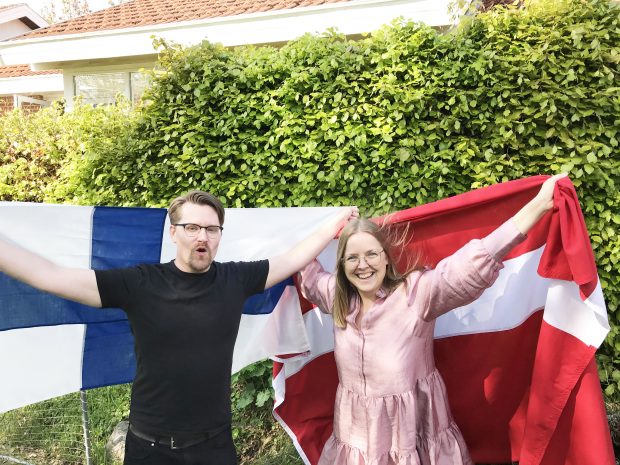 When Jouni Salo first came to Copenhagen in? He probably wasn't imagining that a decade later he would be living in Viborg with Danish wife Line and two kids.
Then again, he likely didn't predict that Finland would be participating in its first ever major football tournament in 2021 either – with their first ever game being against Denmark!
As is the case with most Finns, Jouni's true love is ice hockey and his significant other Line is not averse to remind him of that time Denmark shocked the Finns at the World Championship.
Could the Finns spring a surprise of their own? Jouni seems doubtful.
Do you intend to watch the game together?
Jouni: Maybe. If they show the game for free on the telly we will watch it. But honestly, we're not that fond of football. Ice hockey and Eurovision on the other hand …
Would you say that one of you will be louder than the other in your support?
Jouni: That would be Line. Definitely.
I suppose your kids are aware that something is going down. Have they picked a side or is it a stalemate in terms of allegiance?
Jouni: Not sure. We asked and both kids said Finland. One of them quickly changed it to Denmark to not upset Mom.
This is Finland's first major tournament in football, but the Finns have ample pedigree in ice hockey. So, is it Teemu Pukki or Teemu Selänne in the Salo household?
Jouni: Got to be Selänne. The other family members don't even know who they are.
Denmark and Finland have faced off numerous times on the ice hockey rink over the years. How is the Euros going to measure up?
Jouni: Usually Finland is the stronger team on ice.
Line: But remember when we saw Denmark-Finland in Herning in 2018. Denmark won 3-2! Wuhuu!
Jouni: Yeah and I'm afraid Finland will get slaughtered by Denmark on grass too.
What's more likely to happen on game day? A cold beer in the sauna at halftime or a rød pølse on the grill?
Why not combine the two? We have both a sauna and a grill in the backyard. Kippis!
What do you guys think the final score will be?
5-0 to Denmark
---
Belgium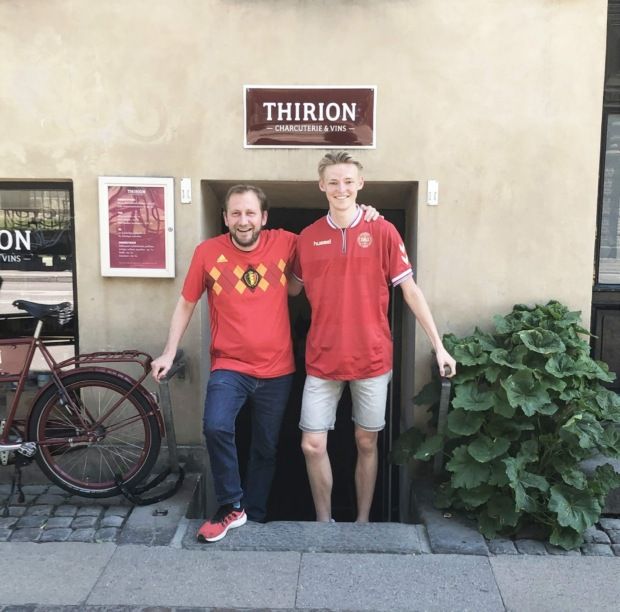 When he's not busy dishing out traditional Belgian meats and beer in Thirion – his quaint little gem of a charcuterie on Prinsessegade in Christianshavn – Eric Thirion's passion lies in tennis and his beloved Red Devils.
Eric fondly recalls Belgium's epic run in the 1986 World Cup and gleefully recounts gathering friends and family to watch his country's recent glory in Russia 2018.
Since coming to Denmark in 2000, Eric has made a point of following Belgium when they play on the big stage.
However, his son Gustav, 20, has embraced a different path. His heroes aren't Enzo Scifo, Jean-Marie Pfaff or Eden Hazard. He's a staunch Denmark supporter.
His dad doesn't seem to mind though. In fact, he enjoys it. Becasue it's all about having a good time for the Thirion clan.
Do you intend to watch the game together?
Eric: I actually have a ticket for the game, so it all depends on that. However, if that falls through, I will host some event at home with family and friends and we will see it together.
Is one of you more vocal than the other in your support?
Gustav: Definitely my dad. He jumps up onto the sofa. I celebate, but my dad really shows his passion.
There's a bit of a split in the family in terns of allegiance. How does that play out at home?
Gustav: I was raised in Denmark, have Danish friends and go to Danish school, even though my dad probably wishes that things were different.
Eric: Actually, I rather enjoy the banter and back-and-forth we have together. Besides, Gustav is lucky enough to be able to support Belgium if Denmark goes out early.
Gustav: Yeah, I begin by supporting Denmark, but if they go out I'll be happy to show some love to Belgium if they're still in the tournament.
What's more likely to happen on game day? A cold Tuborg or some charcuterie with a Belgian beer?
Gustav: My dad loves his Belgian beer, but I'm probably not as well seasoned there. My dad really enjoys inviting friends over and cooking some good food when there's a game on.
Who will be most upset by a loss?
Eric: I don't think anyone will be upset. We might be a bit disappointed, but we'll sleep fine. For us it's all about having fun.
What do you guys think the final score will be?
Eric says 3-0 to Belgium, while Gustav predicts a 1-1 draw.
---
Russia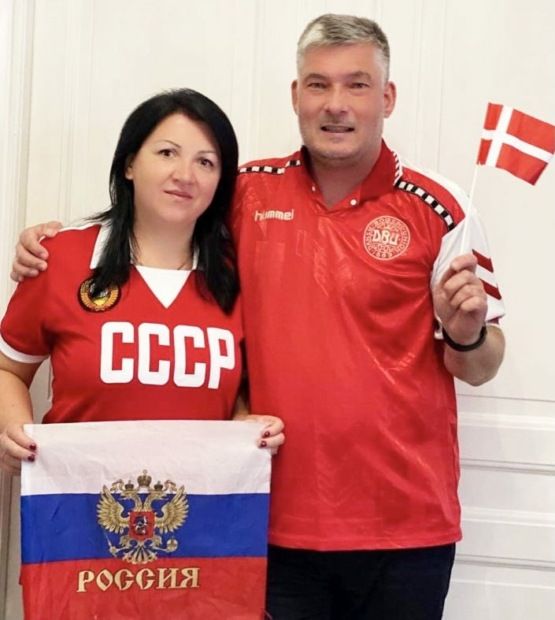 When Alla Kurka came to Denmark and met Thomas Plass in 2011, a Danish husband who is mental about football was probably not her top priority. Ah well. Love conquers all.
Alla and Thomas often enjoy spending their spare time with their two kids at the zoo or Tivoli, or travel to exotic destinations.
But when the football season is on, there's a comprehensive chance that the latter will be at Parken Stadium watching his beloved FC Copenhagen or heading abroad for a Denmark away fixture.
When the ball gets rolling, Thomas is usually an unstoppable force – and when he comes home, Alla says, he's often an immovable object.
Do you intend to watch the game together?
Thomas: Alla is currently back in Russia, but if she comes back in time, we will definintely be watching it together … cheering on opposite sides of the sofa.
Would you say that one of you will be louder than the other in your support?
Alla: Thomas. Without a doubt.
Thomas: Yeah, that's me for sure. I'm the one who usually shouts the loudest anyways.
Your kids are a bit young, but are they aware that something is going down?
Thomas: Not really. But Lukas (6) is well keen when FC Copenhagen plays. Then he can sit and watch with me on the sofa.
What's more likely to happen on game day? A hotdog and a cold Tuborg or Russian shashlik and vodka?
Thomas: For me the cold Tuborg is a must when watching football, but Alla does enjoy cooking up a storm. So I guess it's a bit of both at the end of the day.
Who will be most upset by a loss?
Thomas: Me, for sure. I'm the one who really gets into football, so a loss would sting a little harder I think. Alla isn't the big football fan, so I'm sure she'll sleep fine at night if Russia loses.
Alla: Yes, I will.
What do you guys think the final score will be?
Thomas: 2-1 to Denmark
Alla: 1-1