News
Copenhagen 2021: Pride of the World
---
This article is more than 2 years old.
Truly inclusive: Copenhagen is welcoming visitors from all over the globe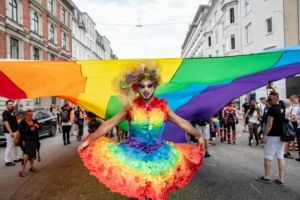 It's not much of a surprise that Copenhagen is hosting WorldPride this year. After all, it was voted the most queer-friendly city in the world by both the British LGBT Awards and Lonely Planet – a big admirer of the Danish capital's open-mindedness and tolerance
It is also home to the world's oldest gay bar, Centralhjørnet, the first country to legalise same-sex civil partnerships … the list goes on. 
And as if celebrating the LGBTI+-community wasn't enough of a reason to look forward to Copenhagen Pride, this year's collaboration with Malmö is a first international partnership in the history of World Pride. 
What's the frequency, Kenny?
We spoke to Kenny, who can regularly be found serving drinks at Centralhjørnet, where he has worked for the last one and a half decades.  
After being pleased to hear the news that Copenhagen was chosen as the host for WorldPride, his next thoughts were "to get worried about all these people eventually not finding a place to sleep". 
The city expects at least 60,000 people to join multiple parades, which before the pandemic was scheduled to have been one gigantic parade. This doesn't even take into account all the guests tagging along watching the spectacle from afar. Kenny is right to be concerned: the streets will not only be filled with pride, but also with people. 
But the days from August 12-22 are not meant for catching up on sleep; the numerous events and activities leave little time to rest. 
"Much has changed"
Centralhjørnet has a respectably long history in the city. When the bar was built in 1917, queer people were not only openly discriminated against, homosexuality was simply illegal. 
In this day and age, Copenhagen's citizens are widely celebrated for their tolerance. But Centralhjørnet's standing as the iconic LGBTI+ venue did at times cause trouble for Kenny. "Overall, there haven't been many people openly speaking up against us, or even taking more aggressive steps, but when I started we had some occasional broken windows", Kenny says. 
"All in all, most people see this as an open and safe space. We do not discriminate, everyone's warmly welcome to have a good time." Nowadays, vandalism isn't much of an issue anymore, "and if so – we changed the glass and frames, our windows are much more stable today." 
"Danes are friendly people" 
Centralhjørnet is not the only old gay bar in town. Café Intime is almost as old – a constant in Copenhagen's queer nightlife since 1922. 
The early venues had to stay incognito until anti-gay politics ended in 1933. Since then, Copenhagen has had nearly a century to develop a tolerance that has allowed many gay bars to openly celebrate their identity.