News
Theatre Preview: Miss Julie's Happy Valley (Aug 26-29)
---
This article is more than 2 years old.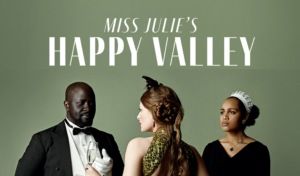 For four days at the end of August, you can catch a stone-cold classic of theatre – August Strindberg's 'Miss Julie' – reimagined by producer and playwright Michael Omoke.
Omoke transports the timeless fictional reflection on class divide to the non-fictional 'Happy Valley Set' – a community of ultra-privileged white aristocrats of 1920s British Kenya. Their scandalous legacy includes debauched affairs, hedonistic parties and the lingering mystery of a juicy unsolved murder.
Miss Julie gets a makeover
'Miss Julie's Happy Valley' unravels the dubious truths of the infamous 'Happy Valley Set' using Miss Julie, the play's fictitious tragic heroine character, as a portrait of Alice de Janzé – the real-life American heiress and countess.
The play follows the always-sexy forbidden servant-master tryst, the power play around it, and the subsequent social fallout. Omoke serves up an extra layer of drama by using Alice de Janzé's troubled story as a frame.
Sex, crime and lies
The socialite committed suicide after Lord Erroll (the leader of the Happy Valley set with whom she had been having a secret affair) was found dead in his Buick on the morning of 28 January 1941 at the junction of the Karen and Ngong roads, Nairobi. To this day, nobody has ever been convicted of the murder.
In a twist of fate, Janzé killed herself with the same gun she had used to shoot herself and her ex-lover Raymond de Trafford 13 years previously in a failed attempt at a murder-suicide.
The highly publicised trial caught the world's imagination with its details of the scandal and decadence of the insular community of white settlers. Today, the sheer excesses of the Happy Valley Set continue to fascinate, as does its symbolic power in the realm of sex, race and class tensions – showcased here for your viewing pleasure.