News
Government delivers new parental leave law
---
This article is more than 2 years old.
New model will go into effect next autumn and will see both parents given 24 weeks of leave following birth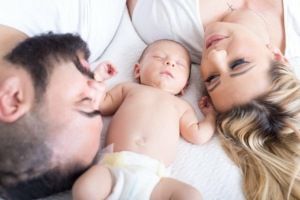 Yesterday evening, a broad spectrum of Parliament agreed to a new parental leave model that will give 24 weeks of leave for each parent following the birth of the child.
Of the 24 weeks, 11 is earmarked and cannot be transferred to the other parent. And mothers will still have four weeks before birth (check out image below).
Essentially, this means that mothers can have a maximum of 41 weeks of maternity leave, while fathers can have 37 weeks of paternity leave.
Moreover, single parents (fathers and mothers) will have 46 weeks at their disposal and have the opportunity to transfer some weeks to a close family member. 
Similarly, LGBT+ families will be able to divide parts of their leave to a maximum of four parents. 
READ ALSO: Denmark close to gender balance for parental leave 
Induced by EU directive 
The new law is set to go into effect in August 2022.
"The government has a clear desire to see more fathers taking paternity leave and that the leave rules are as flexible as possible," said acting equality minister, Mattias Tesfaye.
"When both parents can be with the children early in life, it benefits fathers, mothers and especially the children."
The new rules only encompass employees. The self-employed are exempt, as are students and the unemployed. They can still transfer up to 22 weeks to the other parent as is the case today.
The move comes in the wake of a new EU directive – which forces EU countries to earmark at least nine weeks of paternity leave to both parents – that is due to be implemented by the end of 2022 at the latest.
On average, fathers who had a child in 2018 took 32 days of parental leave, while mothers took 274 days.