News
Elections Round-Up: Most mayors supplement their salary with seats on boards
---
This article is more than 2 years old.
Elsewhere, the German minority are in pole position to take Tønder, but Enhedslisten are unlikely to oust Socialdemokratiet in the capital, even if they do beat them in the polls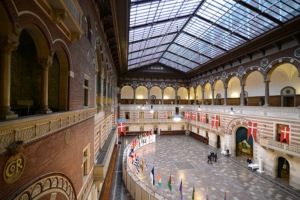 A report produced by analysis company Kaas & Mulvad for TV2 reveals that local politicians will make 47.9 million kroner from filling 1,232 extra posts: seats on boards, housing associations and energy companies, mostly.
Of the country's 98 municipality mayors, 76 take on extra seats.
The top five earners
The report has put together a top five of the biggest earners.
Two are Socialdemokratiet: Jacob Bundsgaard in Aarhus and Peter Rahbæk Juel in Odense; two are Venstre: Jørn Pedersen in Kolding and Martin Damm in Kalundborg; and one Konservative: Michael Ziegler in Høje-Taastrup.
It's estimated that Juel, for example, makes close to an extra 600,000 kroner a year.
Two say no
However, two have chosen to say no: Svendborg's Bo Hansen and Aalborg's Thomas Kastrup-Larsen, both of whom are Socialdemokratiet.
Like in many countries, Danish politicians do not make huge salaries. PM Mette Frederiksen, for example, get 1.6 million kroner a year – a sum the aforementioned top five surpass thanks to their supplementary income.
---
Women's magazine criticised for matching readers with only female pols
Alt for Damerne magazine is under fire for publishing a survey designed to help their readers find the perfect candidate to vote for in the forthcoming local elections. The only snag is that every single suggestion is a woman. Alt for Damerne editor Rikke Dal Støttrup was unapologetic when interviewed on TV2, pointing out that women hold only a third of all the seats. "Why not hit two birds with one stone and find one that fits your ideology and your gender," she reasoned, adding that somebody on the council needs to ensure that urban spaces are safe and that it's easy to get around with a pram. However, other women disagree, including author Sanne Gottlieb. "I think it's a declaration of bankruptcy that just because you are a woman, you have to vote for a woman," she said. Laura Lindahl, a Konservative councillor in Frederiksberg, concurred. "Gender equality is not that there are 50 percent women and 50 percent men," she told TV2. "It means that there are equal opportunities."
Could Denmark have its first German mayor since World War II?
Denmark could potentially have its first German mayor for 75 years in Tønder in southern Jutland, where Schleswig Party's leading candidate, Jørgen Popp Petersen, is making ground on Venstre following disruption caused by the departure of its mayor. The party, which represents the interests of the German minority, has a strong presence in both the municipalities of Sønderborg and Tønder. "I'm ready to give it a try if the opportunity arises. You are in the game to get maximum influence. You have to take the chances that present themselves," Petersen, who has held a seat on Tønder Municipality's council for 12 years, told DR. The German minority accounts for 15,000 Danes in the municipalities of Haderslev, Aabenraa, Sønderborg and Tønder, where they are served by 15 schools, 39 daycare institutions, five libraries, one gymnasium and one newspaper.
Enhedslisten beating Socialdemokratiet in capital, but mayorship unlikely
A recent Epinion poll of Copenhageners reveals that 22.4 percent would vote for Enhedslisten, compared to 20.6 percent for Socialdemokratiet – down 7.0 percent on its performance in 2017, while the far left has gained around 4 percent. However, pundits expect Socialdemokratiet to catch up over the next fortnight as it has more money to spend on campaigning. Furthermore, regardless of the result, the next mayor is likely to be Socialdemokratiet, as centre left is far more palatable to the other parties than hard left. Enhedslisten knows this and will instead target two of the six mayor departments. 
Does Nye Borgerlige have a policy to discredit corona approach?
Six Nye Borgerlige candidates have been accused of peddling false claims about corona vaccines in the build-up to the elections, reports TV2. The number involved would appear to suggest this is a deliberate policy. One candidate claims that vaccine side-effects are putting more strain on the health service than COVID-19 itself, while another claims more people die from the vaccine than from the disease. In July, Nye Borgerlige's leading candidate on Bornholm called Sundhedsstyrelsen head Søren Brostrøm a "murderer" and "a corrupt dung beetle". There are currently 248 people hospitalised in Denmark with corona.
Municipalities increasingly informing policy with views of local citizens
Municipalities are increasingly using local citizens to inform policy, according to research carried out by the University of Southern Denmark. Ahead of the 2017 election, just 54 percent were using the so-called '§17 para 4-committees', but this percentage has now climbed to 79 percent – 77 of the country's municipalities. Committee members are non-politicians who are locals, and a fair number are representatives of interest groups, local companies or voluntary associations. "The committees are increasingly used, and they have the potential to generate the involvement of citizens that many municipalities aspire to – and they may help to increase interest in local politics around the country," explained Niels Opstrup from the Department of Political Science at SDU.
Meetings cancelled after mayor is infected with corona
Sisse Marie Welling, the healthcare mayor, has corona, and her absence led to the cancellation of a number of election-related events last week, not least because politicians who had come into close contact with her – including mayor Lars Weiss and the employment and integration mayor, Cecilia Lonning-Skovgaard – had to take precautions.
Homebound voters have until Thursday to register
Voters who want to cast their vote without leaving their home, due to illness or a lack of mobility, have until Thursday to apply via their municipality or the website of the Ministry of the Interior and Housing. Once registered, they will be visited by two ballot recipients at an agreed time.