News
Danish Navy kills four pirates in firefight in Gulf of Guinea
---
This article is more than 2 years old.
Incident vindicates recent deployment of the Esbern Snare to a region described as the world's most dangerous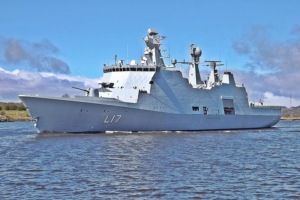 Danish naval forces have killed four pirates during a firefight off the coast of Nigeria in the Gulf of Guinea.
The Esbern Snare, a Danish frigate, came under fire in an incident yesterday, reports Forsvaret, the Danish armed forces.
In returning fire, five of the assailants were hit – four fatally. No sailors on the Esbern Snare were injured. 
READ MORE: Denmark to deploy warship to pirate-infested waters
Did not heed warning
Before the firefight ensued, the frigate sent a Seahawk helicopter to warn a "suspicious looking" motorboat carrying eight passengers. 
However, the occupants did not heed the warnings.
Danish personnel further observed that the boat was  carrying equipment generally used by pirates.
Frømand Corps involved
The firefight began when the Esbern Snare fired warning shots and the pirates returned fire, directly at the frigate.
It is believed the Frømand Corps were involved in the firefight and that they ended up boarding the pirates' vessel. 
The motorboat sunk after the firefight, and the four remaining occupants were taken aboard the Esbern Snare.
Most dangerous sea passage in world
An inter-ministerial group will now assess whether the actions of the Danish personnel adhered to strict practice. 
The Esbern Snare has been deployed to the Gulf of Guinea due to increased piracy in the region. Last year, there were an unprecedented 130 hijackings in the area – 95 percent of the global total. 
At any given time, there are 30-40 Danish-operated ships in the Gulf of Guinea.
By chance, PM Mette Frederiksen and Venstre leader Jakob Ellemann-Jensen were scheduled to visit the frigate today as part of their trip to Ghana.