News
Denmark makes history with massive offshore wind farm tender
---
This article is more than 2 years old.
Thor Havvindmøllepark will be the biggest of its kind in Denmark and the first to be built without state funding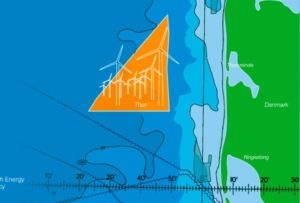 The Energy Ministry has announced that Thor Wind Farm has won the tender to construct the huge offshore wind farm Thor Havvindmøllepark.
It will be the first time that an offshore wind farm project will be completed without state funding in Denmark – in fact, the state will receive 2.8 billion kroner when the farm begins to produce energy.
"The Thor Havvindmøllepark tender is another milestone in Danish offshore wind history," said Kristoffer Böttzauw, the head of the Danish Energy Agency.
"It is the first time ever that money will be paid to the state to establish offshore wind. More impressive about the tender price is that the erector must pay for the landing link themselves for the first time. It really promises good things for future offshore wind tenders and the green transition."
READ ALSO: Denmark's biggest offshore wind farm ready for action
Supplying 1 million homes 
Thor Havvindmøllepark is the first of three offshore wind farms to be produced as part of the Energy Agreement from 2018.
It will become the biggest offshore wind farm in Denmark and is expected to produce energy from about 2026.
Situated at least 22 km off the west coast of Denmark, it will produce 800-1,000 MW and supply electricity to about 1 million Danish households.
It is estimated that investment expenditure for the wind park will be around 15.5 billion kroner. 
The tender stipulates that Thor Havvindmøllepark must be fully functional by the end of 2027 at the latest.
Read more about the project here (in English).
Earlier this year, Denmark reached another climate milestone when its biggest offshore wind farm to date, Kriegers Flak, was ready to begin supplying the country with sustainable electricity.