News
Little chance of a white Christmas in Denmark
---
This article is more than 2 years old.
The chances are slim and the trends don't help: Like Gene Kelly, we'll probably be singing Christmas carols in the rain, not the snow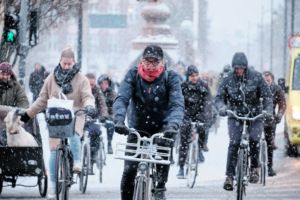 As has been the case in recent years, hopes of a Christmas Eve in the snow once again looks to be dashed.
TV2's 'White Christmas Barometer' rated the probability of celebrating a snowy Christmas on a national scale at a paltry 8 percent.
The good news is that in early December, accurately predicting the weather for Christmas Eve is a difficult proposition and the barometer is adjusted on the basis of unstable variables – statistics, predictions, trends.
In other words, up until December 15, the uncertainty of the forecast models remains very high.
To be considered a 'White Christmas', there must be at least half a centimeter of snow in 90 percent of the country on the afternoon of December 24. 
For the moment, anyways, Denmark looks set to be green and mild the week leading up to Christmas.
READ ALSO: Record smashed: Warmest night so late in the year
Beast from the east?
However, a high pressure system seems to be building in mid-December over central Europe, and will move northwest.
And according to the US GFS forecast, in the days leading up to Christmas, northerly winds and colder air will disrupt the atmosphere, which could lead to  snow around the 24th. 
But being realistic is the best way to avoid disappointment.
A white Christmas has only been recorded 12 times since 1874 – seven times in the 20th century, and twice in the 21st century.
The last time was a back-to-back showing in 2009 and 2010, while the last time it snowed locally was in 2018.