News
Happy birthday Princess Mary!
---
This article is more than 1 year old.
The Crown Princess turns 50!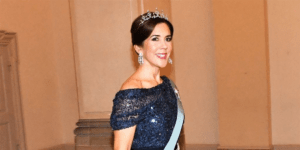 Born in 1972 on the Australian island of Tasmania, Mary Elizabeth Donaldson met Crown Prince Frederick at the Slip Inn, a pub in Sydney, while the royal was visiting Australia for the 2000 Summer Olympics.
The details of those fateful first few days have never been properly confirmed. Was the prince merely introduced as Freddie? Did Mary have no clue who he was?
Anyhow, the rest is history. They announced their engagement in 2003 and were married in 2004. They have since had four children.
Before becoming a princess, she worked in advertising and communication and for a short time as an English teacher in Paris.
Celebration plans
Even though most of the celebration plans for her 50th birthday were cancelled due to corona, a few were kept.
On Monday January 31, she opened the exhibition 'Mary and the Crown Princesses' at Koldinghus in Kolding.
And on Wednesday February 2, she attended the opening of 'Crown Princess Mary 1972-2022' at the National History Museum at Frederiksborg Castle in Hillerød.
Last but not least, on Thursday the princess was invited to dig the first sod of a new enclosure for Australian animals at Copenhagen Zoo, which will be called 'Mary's Australian Garden'.
READ MORE: City institutions still determined to honour Crown Princess Mary's 50th birthday