General
"You gotta fight for your right to party" say British boys bidding to represent Denmark at Eurovision
---
This article is more than 1 year old.
But more important than nationality, contend Fuld Effekt founders Zachary Rune and Alexander Scott Dyrbye, is our primeval urge to have a good time all the time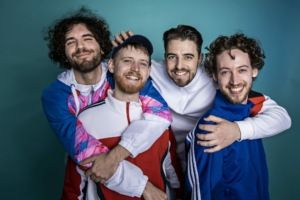 The annual Danish Melody Grand Prix is approaching. Next weekend, on March 5, the public will choose who will represent them at Eurovision in May.
One of the acts is Fuld Effekt, who will be performing the song 'Rave Med De Hårde Drenge'.
Two of the band members, Zachary Rune (Zacdaddy) and Alexander Scott Dyrbye (Beefsupreme), are half-British through their mother, which in recent times is normally a recipe for disaster in Eurovision circles …
Together since 2014
They became friends with Claus Valdorff (Spytclaus) in their teens and then met Kasper Bruhn Nielsen (Speakz) on a skiing trip to Italy in 2014 and incorporated him into the group.
Fuld Effekt was born, and a few years later they got their first record deal. "No more releasing our song ourselves," recalls Spytclaus.
CPH POST met up with them to learn more about their prospects.
---
Can you tell me in a few words who is Fuld Effekt?
Beefsupreme: We're like these underground ravers who make party music with electronic beats and fast-paced rap.
Spytclaus: We are the best people you can invite to a party because we always make sure it is a rave.
Speakz: We're a rap group with three rappers and one producer and we love performing live. That's our specialty, so to speak. We are very good at throwing parties and rapping over house and electronic beats – beats you wouldn't normally consider hip-hop maybe.
Spytclaus:  You could also say that we tell everyday stories with a funny angle.
Speakz: We are storytellers.  
Spytclaus: When we got our record deal we played a lot of live gigs for young audiences in Copenhagen. That is when we started to grow and got a bigger audience. We sort of build on top of that and now we might go to the Eurovision. 
So let's talk about your song for Eurovision. What is the story behind 'Rave Med De Hårde Drenge'? How did it come to be?
Beefsupreme: If we go through from the Danish, we've made an English version and the English title is 'Rave with the bad boys'. With this song, we want to give a big-up to this culture that there is in Denmark where people with big sound systems in their cars party on their own terms.
Speakz: They party outside in the middle of nowhere. They are people who stick out from the norm and go out into the wild just to have fun and party a lot.
Beefsupreme: It's the story of a woman who lives a normal life, but who wants to party with 'the guys'.
Speakz: With the bad boys.
Spytclause: She's tired of just going out for dinner and nice parties and she wants to see what else is out there. Let loose and experience life.
Which one of you came up with the song?

Spytclause: We all wrote it together actually.
Beefsupreme: We do everything ourselves basically.
Speakz: We wrote the song ourselves, we produced it. We also made the artwork ourselves. That's Beefsupreme who did that. It's very much our own thing.
Beefsupreme: It's like our DNA in a rave track.
Do you think that doing everything yourselves is giving you an advantage over the other participants in the Melody Grand Prix?
Beefsupreme: I think so. It gives us a kind of authentic edge. Because we've been allowed to do our thing and be completely ourselves in this Song Contest. There are two sides to it: it's a songwriting competition and it's also a music competition. We're our own songwriters; we've been doing this for years.
Spytclaus: It's a real authentic Fuld Effekt experience.
Beefsupreme: It might help us that people are partying to the song already. It's on different Spotify playlists and we can see that it's like a hard-party style. It works beyond Eurovision as well. It has its own life.
In the eight songs that will be competing for the Melody Grand Prix. You are in the three that have a four-star rating out of five. So do Reddi and Conf3ssion. Do you reckon you have a better chance at winning than they do?

Spytclaus: It's very hard to say because our audiences are so different. We receive a lot of positive responses from our audience, and I think they do too. It's very hard at this point to say whether their crowd is bigger than ours.
Speakz: I think one thing we can say is that what we hope to do is to bring a lot of new people to Eurovision. Because we are kind of bringing a new sound, and it seems that it resonates with a crowd that does not necessarily watch Eurovision. I think we can bring in a lot of new fans. That may give us an advantage because they might be voting for us if we're lucky.
Beefsupreme: We're also getting a lot of love from other countries. People are very kind and they feel like they need to see our song out there. They're telling us and that's sort of hyping us up as well.
Speakz: The international Eurovision fan base has taken a liking to us and we're so grateful for it.
Spytclaus: One of the reasons we were committed to doing this was also that we wanted to show the rest of the Eurovision community that songs can be different, but also entertaining and appealing to a broader audience. And that's what we're trying to do with the song. We're also hoping to win the hearts of people normally watching Eurovision. Even if our fan base might not normally watch it, we want to show that everyone can be a part of this sound.
Speakz: We want to include everyone, basically.
Beefsupreme: Everyone is invited to the Fuld Effekt party.
The Melody Grand Prix is getting close. How are you preparing for it?

Spytclaus: We are working on costumes, our on-stage performance and so on. We have a special stage performance; we're rehearsing a lot. And we're also doing a lot of fan interaction just to tell everybody about what we are doing.
Speakz : There's so much stuff to do to get ready. We have to practise our performance and make sure everything's on point.  There are some interviews as well.
Beefsupreme: We haven't released that yet, but we've made like a sleep therapy guide with some heavy subliminal messaging.
Speakz: We're basically doing our thing but super-fast all the time. Every day  there's either an interview or a photo shoot or some video. As soon as Eurovision is done, whether we end up in the finals or not, we're going to be releasing even more music.
Spytclaus: There is a lot of stuff to do.
What are your forthcoming projects – whether you get picked or not for Eurovision?

Spytclaus: If we're going to Eurovision and representing Denmark, we would of course release the track in English. Also, with the music video and with everything we thought. We're also working on the next singles and maybe an album. All these sorts of things.
Beefsupreme: Maybe a Denmark tour. We really want to play concerts. Because we've been locked inside for two years, we are ready to go nuts.
Speakz: We hope to get a lot of live gigs after Eurovision: to really come out and play some shows and meet people. Experience new things for once. And we have a lot of singles ready to be released as well.
Do you have any release dates to give us?

Speakz: We have a few ballpark days – you could say that.
Spytclaus: It all depends on what the results are. We also want to release the song translated into English.
Speakz: Yeah, so it kind of depends on how Eurovision goes, but I think that one thing we could say is that we're going to release more music before the summer.
Is there anything else you want to share with our readers?

Spytclaus: Really, I want to say how much we actually appreciate all the fan feedback we have received. It's amazing.
Speakz: We hope to show everyone we can live up to their expectations. And just have a good time.
Beefsupreme: We really hope that everyone gets to hear the English version because it is really good.
Spytclaus: That's a good point. We really want to release the English version because it might turn out to be even better than the Danish one. It's up for debate. It's like a carrot on a stick for us to win the Danish Eurovision if we really want to release the English version.
Spytclaus: We might release it anyway. It is one of the things we're going to decide within the next two weeks.
Beefsupreme: If the community really wants it, then it would probably come out either way. But it definitely will if they vote for us.