News
St Patrick's Day 2022: A-Z of 21st century Ireland
---
This article is more than 1 year old.
Emerald Isle making its mark in the modern world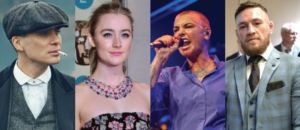 by Armelle Delmelle
A is for Abortion Rights and the bill that proved Ireland is very much in the 21st century. When it came in 2018, it was not perfect – nothing is ever perfect, even a new-born baby – but at least you don't go to jail for making a choice that can change (or save) your life.  
B is for Bród and Síoda, the 'First Dogs'. No official visit to Ireland and its President Miggeldy Higgins is complete if you haven't seen them. It is almost constitutional law for their owner to give them a belly rub whenever they ask for it. It does not matter if he is in a meeting or an official event. They just come and get it.  
C is for Conor McGregor, an embodiment, perhaps, of the new-found confidence of 21st century Ireland. You either love him or you hate him, but there's one thing you can't argue with: he is one of the most famous ever athletes to emerge from Ireland. Oh, and maybe a second thing you can't argue with: him! You definitely don't want to get into a fight with him. Nicknamed 'The Notorious', he is a former featherweight division champion and former lightweight division champion of the Ultimate Fighting Championship. 
D is for Dancing. The traditional Céilí dances, which originated in Ireland, became wildly popular in the 1990s thanks to 'Riverdance', the show whose popularity has endured for 27 years and counting. Some troupe members find novel ways of finding an audience, such as the Gardiner Brothers, who have posted numerous videos of them dancing all over the country in various landscapes.  
E is for Enya, who contrary to what you might think has been just as busy in this century as the last. Her songs have always been ethereal, but in 2005, the poet Roma Ryan even created a language for her: Loxian! It duly appeared in her sixth studio album, 'Amarantine', in 2005. Since then, there have been three more – albums, not languages. That would be Tolkienesque. 
F is for Festival, as in the redheads festival. On a world scale, around 1.5 percent of the population has red hair; in Ireland it's 10 percent. So, it was obvious that they needed a festival, and the Redhead Convention duly obliged from 2010 to 2016 in Cork. The 'foxy' attendees were celebrated at various events, and they even chose a king and queen.  
G is for Guinness. Human lifetimes tend to last around 100 years, reichs for 1,000, but what has a 9,000-year lifespan? The answer is the lease signed by Arthur Guinness in 1759 for the use of the current-day premises used by his brewery. The owners thought they'd seen him coming, when they charged him a monthly rent of 45 pounds. After all, the public preferred gin and whiskey, not this peculiar dark beer brewed from roasted barley. But nearly three centuries later the Black Stuff, and the rent, haven't changed a jot!
H is for Hurling, one of two Irish sports recently added to UNESCO's List of the Intangible Cultural Heritage of Humanity, along with Camogie – the version for women. Two teams of 15 players use wooden sticks (hurleys), similar to a hockey stick but with a flat end, to hit a small ball (sliotar) between the opposing team's goalposts.  
I is for Ireland, the Emerald Island itself, which we've heard is having a party on March 17, and you're all invited! Put on your green clothes and shamrock glasses, enjoy the parade and 3-legged race, and celebrate like only the Irish can. 
J is for Jack Gleeson. Somehow his character Joffrey Baratheon survived four seasons of 'Game of Thrones'. Jack gave up acting once he was eventually killed off … to focus on university. Nothing to do with how spectacularly unpleasant his character was, then! 
K is for Kilkenny, which boasts one of the most beautiful medieval cities in Ireland. From Kilkenny Castle there is a popular discovery trail linking other Kilkenny highlights called the 'Medieval Mile': a fairy tale-like walk back in time that will take you through a city known for its festivals and arts tradition. 
L is for Lipstick by Jedward, the Irish entry in the Eurovision Song Contest in 2011 – the last time anyone gave them a hope of winning. After four wins in the 1990s, taking their total up to a record seven, Ireland has been cautious this century, as it's rumoured the hosting costs very nearly bankrupted the country. Jedward finished eighth as the government watched on with paramedics in attendance.  
M is for Cillian Murphy, a bonafide movie star thanks to meaty roles in more than a few Christopher Nolan films, but it is thanks to television that he is truly global. This year will see the final season of 'Peaky Blinders', the show he has appeared in every episode of since its pilot in 2013. Will he survive the final season? Does anyone.
N is for the Six Nations, which Ireland have won an impressive four times since its grand slam in 2009 – a feat it repeated in 2018. 
O is for Sinéad O'Connor, arguably the country's most famous-ever female singer, even though she's grabbed more headlines for changing her name in recent years. First she switched to 'Magda Davitt', a rejection of patriarchy, and then to Shuhada Sadaqat, an embrace of Islam. 
P is for Population and how Ireland's had been yo-yoing for centuries. In 1840, it was as high as 8 million and then in the 1960s down at 2.84 million. But it started to climb again after the Celtic Tiger economic boom and now stands at 5.03 million – the first time it has exceeded 5 million since 1851. Official projections predict it will reach 6.7 million by 2060.
Q is for Aidan Quinn, who again like Sinéad, sorry Magda, sorry Shuhada, saw his better years in the 1980 and 90s. Raised between the state of Illinois and Ireland, he's still acting, but mostly in television shows like 'Elementary'.   
R is for Saoirse Ronan who like Quinn was also born in the US. She made her acting debut in 2003 at the age of nine, and since then nobody has been able to stop her. Her first Oscar nomination came at the age of 13 for 'Atonement' and she has gone on to win 65 acting awards from 133 nominations. She's still only 27. 
S is for the Sam Maguire Cup. Often called Sam, it is the trophy awarded every year to the team that wins the GAA All-Ireland Senior Football Championship, the main competition in Gaelic Football. Dublin won the cup for six consecutive years between 2015 and 2020, but their run was finally ended by Tyrone last year. 
T is for 'Take me to church', a 2013 Hozier track that Sinead O'Connor covered in 2014. Talk about awkward. The nation is divided on which version is the best.
U is for U2. Before you claim U2 is mostly a 80s and 90s band, they've arguably been busier since then, winning 12 Grammys on the back of four studio albums, seven tours, 17 DVDs, and even two VHS. Who said video was dead! 
V is for Leo Varadkar, Ireland's first openly gay 'Taoiseach' (the PM). He joined the political party Fine Gael (centre right) in 2004 and climbed the ladder until he was elected to Dáil Éireann (the lower and main chamber) in 2007. In 2015 he came out as gay during campaigning for same-sex marriage, becoming the first serving Irish minister to do so. He then replaced Enda Kenny as Taoiseach and the head of Fine Gael in 2017. Today he is the deputy.  
W is for whiskey, which the Irish spell with an 'E'. Top brand Tullamore DEW, named after the town where it was founded and the initials of influential owner Daniel E Williams, is the tipple of choice of Lisbeth Salander and Hunter S Thompson. It has a visitor centre in Tullamore where guided tours can last anything between 50 and 300 minutes – now that's what we call a tasting! 
X is for X-rated, as in most things Roy Keane says. These days it's not so much the foul language but the toe-curlingly acerbic comments he makes as a pundit. In yesteryear, nobody was safe with the ball at their feet, and today nobody is safe when the mic's in his hand.Sample line from 21st century Roy: "I don't think some of the people who come to Old Trafford can spell football, never mind understand it." 
Y is for the 'double Y' in Paddy's Day. This is what this supplement's about, right? We don't know what St Patrick would think of the celebrations happening all over the world. But we're sure they would have his blessing.
Z is for the Zone in Boyzone, the boy band that thrived in the 1990s before disappearing for a decade. But a huge comeback in 2008 brought them back. Three more albums followed before they again split up. By our calculations, they'll be reforming in 2028.