General
We're number one! Copenhagen rated the world's most liveable city
---
This article is more than 1 year old.
Monocle magazine praised the Danish capital for its culture, security, public transport and ability to constantly rethink itself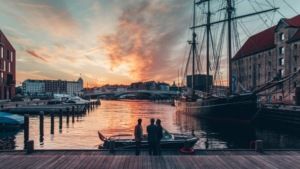 If the glorious sunshine in Copenhagen didn't put a smile on your face this morning, then this might.
You live in the most liveable city in the world!
Monocle magazine has once again ranked Copenhagen top of its 'The world's most liveable cities in 2022' list.
"Copenhagen has kept independent retail and restaurants alive; it's an exciting place for entrepreneurs, has world-leading museums and ambitious plans to green the city, recycle more and be a good place to live," said Monocle editor Josh Fehnert.
Five-year winners
It's the fifth time that the Danish capital finished top of Monocle's list and the city was praised for its vibrant culture, security, public transport and for always looking to improve.
Monocle said that the Danish capital may not be as eye-catching as other cities, but its resident-oriented strategies and creative space planning is what sends it to the top.
"Copenhagen has consistently put pedestrians, bikes and people at the centre of the city and it has paid off. City hall cleaned up the harbour for swimming and benefits and provisions for citizens are generous," said Fehnert.
READ ALSO: Copenhagen rises to the top of the world's most sustainable cities list
An honoured mayor
Zurich finished second on the list, followed by Lisbon, Helsinki and Stockholm. Tokyo, Vienna, Sydney, Vancouver and Taipei rounded out the top 10.
Other notables in the top 25 included Berlin (13), Amsterdam (14), Paris (17), Melbourne (19) and Oslo (23).
"The ranking is a big pat on the back for Copenhagen, which once again has been awarded the fantastic honour of being the world's best city to live in," said Copenhagen mayor Sophie Hæstorp Andersen.