Things to do
Roskilde 2022: PRISMA opener underlines how badly we've missed this festival
---
This article is more than 1 year old.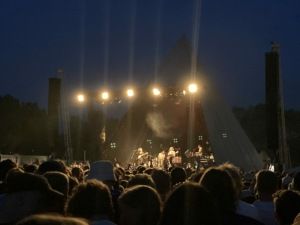 Just shy of midnight on Sunday, under the long pink dusk, 500 or more festival-goers are gathered in front of Rising Stage.
Hors d'oeuvre is order of the year
The bristling energy in this crowd makes it easy to forget that Rising is just a starter course for the week-long feast. Their anticipation would make you think some top headliner was set to take the stage — not the up-and-coming Danish indie rock duo PRISMA.
Just after 11 pm, the tipi canopy of Rising Stage glows red like a cross section of a volcano. Two tuning guitars cut through the air, focusing the crowd's attention. Then, with no formal introduction, PRISMA is in action. Their sudden opener takes a moment to register with the crowd, then summons a wave of applause.
Their music is ideal for a crowd eager to exercise their head-bobbing muscles. It's brisk, indie power rock, the driving tempo balanced with the two sisters' floating, almost distant vocals.
Gratitude is plain to see
From the very first track, there's such tangible gratitude from both sides of the stage. For many in the crowd, this PRISMA performance marks their first live music of RF2022. In their giddy reception, there's maybe some aspect of relief.
PRISMA is audible confirmation that, after two years of doubt and delays, and the usual slog to set up camp, Roskilde Festival is still here and as real as it ever was. From PRISMA's end, the two sisters pause to give the usual remark for Danish artists: about how playing at Roskilde has always been a dream for them.
But this time, it feels even more real. Maybe it's because we just haven't heard it in a while.
PRISMA prove it's as pristine as ever
By the time PRISMA get to their biggest hit, "I've Never Wanted To Meet You," they've already won. The rest of the set is a victory lap. They've got a few darker, softer numbers, but those are on the shelf tonight. This set is just the up-tempo crowd-pleasers, doing exactly what they're supposed to.
PRISMA's set closes out to an even larger crowd than when they started — it's nearing a thousand people applauding as the two sisters leave the stage. In their own words, the evening's show was something larger than either had ever thought possible.
And for the crowd, PRISMA delivered that triumphant feeling that, for this week, just about everything at Roskilde is right where we left it.