News
The next challenge for Inger Støjberg at Danmarksdemokraterne is to find suitable MPs
---
This article is more than 1 year old.
Peter Skaarup is now a representative in the Danish Parliament, with Søren Espersen reportedly keen to join, but they will need many, many more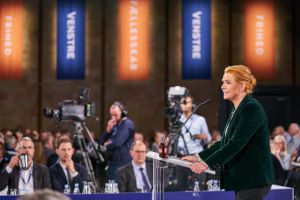 Everything has been going brilliantly for Danmarksdemokraterne, the new political party launched by Inger Støjberg barely a month ago.
It took her just eight days to obtain the 20,182 necessary votes, and on July 8 it was confirmed that Danmarksdemokraterne would win 10.8 percent of the public vote – trailing only Socialdemokratiet, Venstre and Konservative.
However, there may be a bump in the road ahead: finding suitable prospective MPs for her new party with the relevant experience to make a difference in Danish political life.
It remains to be seen how many of the 11 MPs who have left Dansk Folkeparti (of a total of 16) look in Støjberg's direction, and how many live up to her standards.
A new representative
One of them, Peter Skaarup, is onboard, and today he has been confirmed as the official representative of Danmarksdemokraterne at Christiansborg.
"I am very happy that Danmarksdemokraterne now has a place at Christiansborg where we can seek influence," he said.
According to Skaarup, much of Støjberg's time is dedicated to finding the best team of candidates to represent her party.
One politician who has openly shown interest is former Dansk Folkeparti MP Søren Espersen, who views the party as an "incredibly interesting project".