News
Indian summer grinding to a halt
---
This article is more than 1 year old.
This week will start with warmth and sunshine, but a low-pressure system bringing rain and lower temperatures threatens on the horizon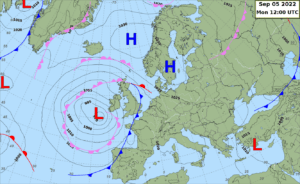 Well, it was nice while it lasted. 
August and early September have offered up ample hours of heat and sunshine … but it's about to come to an end this week.
The first half of the week will continue to provide sunshine and temperatures near 20 degrees, but clouds and rain will be on the forecast from Thursday on, according to national weather forecaster DMI.
READ ALSO: 300-year-old ship journals to help understand climate change 
A parched country
A low pressure system from the UK (see image above) is poised to move across Denmark on Wednesday and heavy rain is expected on Thursday and Friday – 30-50 mm over the two days in parts of the country.
Meanwhile, temperatures are also predicted to drop, down to about 16 degrees on Friday.
Beach goers and sunshine merchants might find the news distressing, but the nature in Denmark will likely rejoice.
Currently the drought index is at a whopping 9.3 for the entire country – a level that indicates a high risk of drought.