News
"If only Trump had kept his mouth shut" … Denmark was close to selling Greenland, claims new book
---
Foreign Ministry rejects claims that its ambassador to the US spoke to senior administration figures about a sale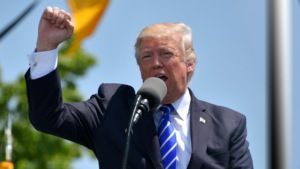 The Foreign Ministry has rejected revelations in a new book, 'The Divider: Trump in the White House, 2017-2021', which claims the Danish government instructed its ambassador in Washington DC to hold official talks about the possibility of Denmark selling Greenland to the US in 2019.
It further claims that Denmark lost its nerve after Donald Trump made the matter public in August 2019. There was no way back after PM Mette Frederiksen quickly called the offer "absurd" – a rebuttal that led to the US president cancelling a forthcoming visit to Denmark.
Talks were ongoing for "several months" before Trump's admission, it is claimed, and pertinently PM Mette Frederiksen was in Greenland at the time the news broke, the book points out.
READ MORE: Guest opinion: A modest proposal for Greenland and the USA
Firm denial, but …
"The Ministry of Foreign Affairs can clearly deny that, as claimed by the New York Times, there have been discussions about the purchase of Greenland between the then American administration and Denmark's ambassador in Washington prior to President Trump's announcement," it told TV2 last night.
However, John Bolton, Trump's national security adviser at the time, who has been at loggerheads the former president ever since his September 2019 dismissal, appears to back up the claims: "If only Trump had kept his mouth shut, we could have found something out. But the opportunity disappeared, it disappeared completely."
Trump himself told the book's writers that he got the idea to buy Greenland by looking at a map: "I am a property developer. I look at a street corner and say: "I'll have to have that business as part of the building I want to build." Etc. This is not so different."