News
Denmark has a hooligan problem
---
Violence from a few bad apples threatens to dismantle a football environment that has blossomed since Euro 2020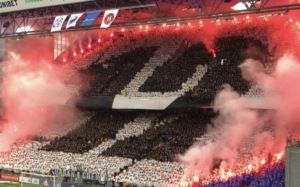 Euro 2020 galvanised the game of football in Denmark, thanks to a fabulous performance by the Danish national team and the immense outpouring of support for Christian Eriksen following his collapse on the pitch.
Clubs have seen a significant uptick in crowds at stadiums and the sport has become everyone's passion – never before have there been so many women and children in the stands.
Organised fan culture in the country has also taken immense steps in recent years, and big Danish games have become a football tourism draw due to the great game day atmospheres. 
But something ominous is threatening to undo all the good will: the growing problem of hooliganism in Denmark.
READ ALSO: Fan trouble mars FC Copenhagen's Champions League opener
Not just a Superliga thing
The latest example was just last night, when FC Copenhagen and Brøndby fans clashed at a rest area off the motorway in Funen while making their way back in fan buses from their respective matches in Jutland.
A couple of weeks ago, Brøndby supporters travelled to Germany to attack random FC Copenhagen fans gathered to see their team take on Borussia Dortmund in the Champions League. 
At the most recent New Firm Derby in Copenhagen, Brøndby fans destroyed seats at Parken Stadium, leading to an away-fan ban for the next game between the two rivals – not the first such ban over the past year. 
One man was sentenced to prison for threatening two teens into taking off their football shirts on the S-train on the way home after the game. 
And the problem doesn't end with the top division. A cup game between two teams in the second tier of Danish football, Esbjerg and Kolding, ended in a mass brawl last month. Even amateur games aren't immune to violence.
READ ALSO: FANtastic Copenhagen has some of the best ultras
Government stepping in
The police, Divisionsforeningen league association, DBU national association and even politicians are now getting involved. 
After meeting with the clubs, the police and fan groups last month, the justice minister, Mattias Tesfaye, set up an expert committee to look into how to curb football-related violence and vandalism.
"Going to watch football at the stadium shouldn't be like going to the Royal Theatre – some loud support and beer at half-time is fine. But it must be without vandalism and violence towards other fans, security guards or the police," said Tesfaye.
"We need to make sure that the football party continues for the 99 percent – the 1 percent needs to either behave adequately or be banished from the stadiums."
The committee's findings are due next month, according to the Justice Ministry.