News
Business Round-Up: House prices set to drop
---
Elsewhere, a new budget supermarket is set to take off and Nets is seeking to offload its MitID digital solution asset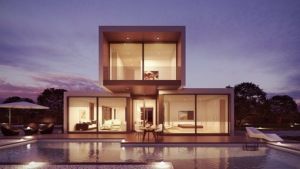 According to a new forecast by Nykredit, house prices will plummet over the next two years.
The average nationwide price fall in 2023 will be 5.6 percent, while the value of condominiums will decrease by 5.1 percent.
By 2024, however, the annual fall in house prices is expected to slow to an average of 1.5 percent, while the price of condominiums will fall by another 5.7 percent.
READ ALSO: Never before have Denmark's biggest companies seen such rapid growth
Decline across the board?
For areas such as northern Jutland and Bornholm, the picture is slightly less dramatic. House prices will fall by 3.3 percent and 3.7 percent respectively in 2023.
Last week, Nationalbanken also predicted "significant price falls" in the Danish housing market with almost identical figures to Nykredit.
Handelsbanken also published a gloomy forecast last week that the coming years will contain a decline in both house prices and consumption and exports.
---
Government sitting pretty
The government's net financial wealth increased by 39.7 billion kroner in the second quarter of 2022. Its net worth stood at 404.6 billion kroner at the end of the quarter. This is mainly due to negative revaluations of outstanding government bonds amounting to 56.3 billion kroner. In addition, the government surplus of 11.4 billion kroner contributed to the increase in the government's net financial position.
MitID up for sale, Nets confirms
Nets has decided to sell its e-ID solution MitID, it confirmed last week. MitID, along with NemID, does not fit in with the focus of its parent company, Nexi Group, which favours payment solutions. Nets and Nexi Group are not prepared to make further investments to take the e-ID solutions to the next solution. They are accordingly seeking a buyer who is prepared to.
Significant impact of Copenhagen Airport on region
Copenhagen Airport generates a total of 95.7 billion kroner and 23,000 jobs in Greater Copenhagen – the large region spread across eastern Denmark and southern Sweden – according to an analysis released by the region called 'Københavns Lufthavn – motor for vækst i regionen'. Broken down, the Copenhagen Capital Region benefits to the tune of 73.8 billion and 17,900 jobs, Region Zealand from 10.5 billion kroner and 2,500 jobs, Region Scania 10.2 billion kroner and 2,600 jobs, and Region Halland from 1.3 billion kroner and an unspecified number of jobs. Pre-corona, the figures were higher. For example, the employment figures were 30 percent lower than in 2019. Additionally, the analysis assessed the airport's green performance compared to northern European airports and found it has significantly reduced emission rates per passenger, ranking as the airport with the second lowest rate.
Volvo to focus exclusively on electric and plug-in hybrids in Denmark
Volvo has confirmed it will stop selling petrol and diesel cars in Denmark and focus exclusively on electric and plug-in hybrids. It recently did the same thing in Norway. The Swedish car giant wants to be all-electric by 2030.
Salling Group launching new discount chain with low electricity costs
The Salling Group (Netto, Føtex, Bilka) is launching a new supermarket chain that will only sell staple, non-perishable foods such as oatmeal, nappies, toilet paper and pasta. This will mean they can dispense with items that require a lot of electricity, such as a fridge or freezer. Basalt will also have shorter opening hours and fewer staff, thus saving money on using lights. Prices are expected to be 15 percent lower as shoppers grapple with the highest inflation in almost 40 years. Coop (the Brugsen outlets, Irma, Kvickly, Coop discount365 and the soon to be defunct Fakta), the other major supermarket owner in Denmark, is also committed to reducing its costs and providing shoppers with discounts. The first ten Basalt stores will primarily open in Jutland and Funen. Copenhagen shoppers will have to wait until just before Christmas.
Lego gives production employees a wage increase
Lego has given most of its production employees a 3.5 percent wage increase, as of 1 October, to enable them to cope with rising prices and inflation. Other companies, such as Linak in Als and Novo Nordisk, have also announced wage increases.
Ecco on the attack in Russia
Ecco has stepped up marketing in Russia, drawing criticism from politicians such as PM Mette Frederiksen and Venstre leader Jakob Ellemann-Jensen. Ecco, which has previously explained that it continues operating in Russia for the sake of the company's 1,800 employees and their families, recently distributed coupons in connection with a Moscow marathon, reported Berlingske.