News
Church, vocal minority and academics against plans to abolish public holiday, but businesses mostly in favour
---
Some are questioning the choice of holiday to scrap, others question the fairness of making people work a day extra for the same pay, while Nye Borgerlige wants a referendum!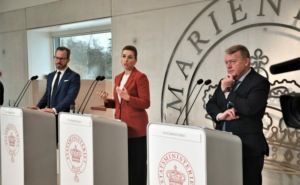 The new government has decided to cut one of the three public holidays enjoyed by Danes every spring – the timing of all three always depends on how early or late Easter might be.
READ MORE: Big changes afoot: New government unveils startling platform
From 2024, Denmark can expect to say goodbye to Store Bededag – the Great Prayer Day, which since 1686 has represented a number of different holidays, which were then scooped up into one day: the fourth Friday after Easter.
From a religious perspective, it makes sense. The other two public holidays, which follow in the ensuing month, celebrate singular Christian holy days: Ascension and Pentecost.
Skewed logic?
However, the government did not cite religious reasons for its decision. Instead, it claimed the cut would improve Danish productivity at a time when it needs to find extra revenue to finance defence spending.
"We are asking the Danes to work one more day so that we can more quickly meet our international defence and security policy obligations," explained PM Mette Frederiksen yesterday.
And this justification has been met by disbelief by many. After all, Ascension traditionally falls on a Thursday, and a great many companies remain closed until the following Monday even though Friday is not a public holiday.
If the government had cut Ascension, it would have gained two working days – which in turn would have made a more tangible contribution to productivity.
Nye Borgerlige wants referendum
Certainly, Nye Borgerlige is opposed to the plans: quite simply, it does not want Store Bededag to be abolished.
Its leader, Pernille Vermund, wants the matter decided by a public referendum.
She cites a 1953 law that permits sizeable minorities, when they are fiercely opposed to a bill, to request a referendum. Nearly 70 years ago, the minority was made up of 60 of Parliament's 179 members.
And they're likely to have support on the left. The last time the suggestion to scrap a public holiday arose, in 2012, it was Radikale who argued strongly against it.
Church worried about losing favourite day for confirmations
The church, too, doesn't like the proposal, arguing that Store Bededag is traditionally a popular day for confirmations.
Kjeld Holm, a former bishop, warned DR of "strong public significance", arguing that Pentecost would be a much better choice.
Hans Raun Iversen, a theology researcher at the University of Copenhagen, concurs that the abolition is a bad idea.
"The day off is needed. There must be room to be able to stop, take a breath and pray if you need it," he told DR.
Backed by business
However, the business world approves of the plans. Dansk Industri deputy head Steen Nielsen claims it will significantly boost productivity – the equivalent of an extra 8,000 people working – and take the pressure off companies to fulfil their workloads at what can be a very busy time.
"It's a helping hand to the companies that have difficulty getting the employees they need," he said. "Getting an extra working day will mean that it will be easier to produce what is needed.".
But Professor Henning Jørgensen, a labour market expert at Aalborg University, doesn't think the average person on the street will enjoy working an extra day for no extra pay.
"You ask people to work more. They don't get extra pay. I think the wage earner will react," he said.