News
Queen Margrethe's week under the spotlight: Putin revelations, back surgery and her impending death
---
Monarch at Rigshospitalet today for operation that will sideline her for the foreseeable future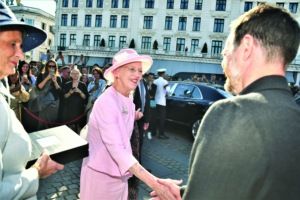 It must be quite irritating for Queen Margrethe to learn today that Prince Constantine Alexios of Greece and Denmark has a new squeeze.
No, it's got nothing to do with the identity of the lucky lady: the still married British socialite, model and blogger Poppy Delevingne.
It's more because tabloids and glossy mags the world over are describing Alexios as a prince of Denmark.
After all, she just withdrew the princedom rights of four of her grandchildren, so it's a bit rich that the grandchild of a dead exiled Greek king is using a title bequeathed as part of a bizarre promise made in the 19th century.
READ MORE: A Danish queen's work is neve done: Four HRH titles down, hundreds more to go
Going under the knife today
To be fair, Queen Margrethe probably has more on her mind this morning: an impending back surgery that is due to be carried out at Rigshospitalet today.
Apparently, the back surgery explains why the 81-year-old monarch tends to be seated at all her recent engagements – so no, it wasn't just good manners.
Margrethe is expected to take a long rest following the surgery, with Crown Prince Frederik, Crown Princess Mary, Prince Joachim and her sister Princess Benedikte all ready to step in at official engagements.
Putin had the coldest eyes she'd ever seen
The surgery is Margrethe's second news splash of the week following her admission that Russian President Vladimir Putin has the coldest eyes she has ever seen. 
"I remember thinking he was not pleasant. I have never seen such cold eyes in my life," she told Weekendavisen about meeting Putin in 2011 and 2014.
Although it was probably good practice for her meeting with Prince Joachim to break the news about his four children losing their HRH titles.
"I don't look away from death"
The Weekendavisen interview also covered some other topics of interest – not least her opinion of 'The Crown', which she doesn't watch out of respect to the British royals, who she knows too well – most particularly Elizabeth II, who she shared a special bond and has now succeeded as the world's longest reigning queen.
On her own inevitable demise, she said: "I don't look away from death, I don't avoid it, but I don't dwell on it. After all, that's the thing about death: under no circumstances is it in one's own hands."
But she is confident in her successor, Crown Prince Frederik: "When I let go of the reins, he'll be there. I am a link in a very long chain that will continue."
Marie: No truth in Joachim rumours
Clearing the way for Frederik was part of her thinking behind her decision regarding her grandchildren's royal titles.
"For me, it has been important that it should not be Frederik's lot to make such a decision. It was better that it was me," she explained.
Meanwhile, Joachim's wife Princess Marie has refuted rumours that her family intends to move to the US later this year. "Nothing has been confirmed, nothing has been announced. The rumours don't come from us," she told Paris Match.