News
Green hydrogen to flow from Denmark to Germany from 2028
---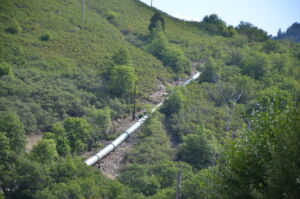 The climate minister, Lars Aagaard, and the German economy and climate minister, Vice Chancellor Robert Habeck, signed an agreement on Friday morning in Copenhagen to build a land-based hydrogen pipeline from Denmark to Germany, which will commence operations in 2028.
"Denmark is in a unique position to become northern Europe's green powerhouse and contribute to the green transition. This requires investment in infrastructure, and companies are ready in the starting box. Now we have fired the starting gun," Aagaard said in his speech, reported by Kefm.
"In the electricity market, we already benefit daily from the strong partnership with Denmark. We are pleased to be able to build on our strong partnership. In this way, together we will strengthen sustainability, efficiency and security of supply in European energy markets," Habeck added.
Power-to-X as a solution
This important deal for the future also strengthens the PtX agreement that the Danish Parliament entered into in March last year.
Denmark is confident the energy, which will be taken from solar cells and wind turbines, will be one of the solutions to take the world to climate-neutrality.
READ ALSO: Huge Power-to-X potential
With Germany in high need of green hydrogen – the country uses a lot of energy, but most of it is derived from natural gas – the agreement will allow German heavy industry to reduce its CO2 emissions.
An underground hydrogen pipeline from western Jutland will probably be used to transfer the hydrogen to northern Germany. The capacity of the new pipeline was not confirmed.