News
Clean once again: Agreement reached with Copenhagen rubbish collectors
---
Piles of trash will vanish from the capital's streets in wake of deal, which will focus on road rage and other dilemmas that the workers face on a daily basis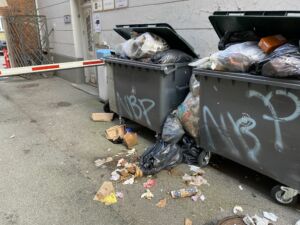 Last week Copenhagen was in risk of being overrun by pests and mountains of rubbish following a strike involving hundreds of sanitation workers in the city.
But that threat looks to have been neutralised after an agreement was reached between the 3F union representing the workers and the city-run rubbish collection company Amager Ressource Center (ACR).
The two parties have reached an accord relating to acceptable working hours.
"With the agreement, we have put to rest the issue relating to the future working hours for around 300 sanitation workers as of May 1 already," Mike Stirling, a 3F Kastrup spokesperson, said according to kobenhavnliv.dk.
"The deal provides our members with more flexibility between work and private life."
READ ALSO: Rubbish piling up in Copenhagen as strike continues
Road rage campaign
Discussions in the past week also shed light on some of the issues that sanitation workers encounter when collecting rubbish, including road rage.
And as part of their new agreement, 3F and ARC have agreed to focus more on the reckless behaviour the workers face when navigating morning and afternoon rush hour traffic.
This will result in campaigns being established in collaboration with the police and municipalities to shed light on the problem.