News
A maze of amusement: Quiz your way through massive labyrinth north of Copenhagen
---
Having to navigate tens of thousands of plants and trees, it could take hours for guests to find their way out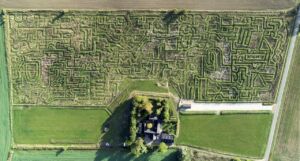 As winter transitions into spring, many people in Copenhagen will be looking to flock to summerhouses and beaches in north Zealand.
And in the near future there will be another reason to make the trek north.
A huge labyrinth in Gilleleje is set to open its doors to the public on April 28 – five hectares of twists and turns made up of 7km of pathways.
"I can take a couple or three hours to complete the long routes, but we also have 1km routes for children, so there is something for everyone," Hans Peter Rafn Sørensen, the owner of the labyrinth, told TV2 News.
READ ALSO: Copenhagen catacombs illuminated in glimmering colour matrix
Right answer … right direction
According to Sørensen, the labyrinth is one of the biggest in the world. And it's not just any old maze. It's also a quiz!
Guests will be able to choose themes and levels of difficulty and then answer 40-80 questions as they make their way through the tens of thousands of plants and trees that make up the maze.
The better customers answer the questions, the quicker they complete the labyrinth.
It's taken Sørensen about three years to get Gilleleje Labyrinten up and running – no surprise given that it comprises of 90,000 plants and hundreds of trees.
In parts of the labyrinth, the trees are almost three metres in height, while the natural hedge barrier is lower in other parts of the maze.
The price of admission is 80kr for an adult, 50 kroner for children aged 3-12 and free for kids under three.