News
Among the best cities in the world
---
In a hugely encompassing report compiled by the Boston Consulting Group the Danish capital ranks as the number one medium-sized metropolis where people are happy to live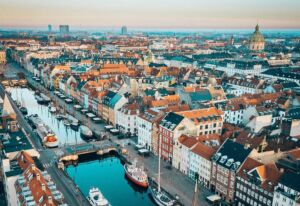 There's a perceived emptiness about the UN World's Happiest Report, which in March once again included Denmark in its top five, according to many of its critics. 
Too much of it, they contend, is based on how happy the survey participants feel, but not enough about what their communities do to meet their expectations.
But a new report from the Boston Consulting Group (BCG), which ranks Copenhagen as the world's fifth best city where people are happy to live (down one place from the last report in 2021), cannot be accused of being lightweight.
In total, 'Cities of Choice: Are People Happy Where They Live?' asked 50,000 people in 81 cities questions about 150 economic, social and political metrics and indicators. It seeks to provide "important insights into the factors that drive people's choices about where to live".
Not only does it rank Copenhagen as one of the best cities to live in the world, but it paints an optimistic view of its future, portraying it as a dynamic capital with few flaws – particularly when compared to other western European metropolises.
Top five contender
Spread across five main categories – Economic Opportunities, Quality of Life, Social Capital, Interactions with Authorities, and Speed of Change – and 26 sub-dimensions, it leaves nothing untouched.
If you love Copenhagen because you're an avid cyclist, or in love with Dogme 95 films, or a die-hard fan of the side that lit up the 1986 World Cup, it will all be somehow calibrated into the final score.
And the Danish capital isn't just among the top five cities, it's the very best place to live if the thought of living in a metropolis of Tokyo proportions, or even European standards, is daunting.
In the category of 'Middleweight Cities', it heads a top five followed by Vienna, Amsterdam, Warsaw and Stockholm.
Only world-leading pair London and New York in the 'Megacenter' division (ahead of Shanghai, Beijing and Los Angeles among cities with a 10 million+ population) and 'Cruiser Weight' pairing Washington DC and Singapore (ahead of San Francisco, Guangzhou and Madrid among cities with a population of 3-10 million) could surpass Copenhagen's score.
Consistent Copenhagen
It is particularly in the Quality of Life and Social Capital categories that Copenhagen shines, ranking in the top 20 percent for each. 
Indeed, Interactions with Authorities is the only category in which it doesn't make the top 40 percent.
As far as the smaller metrics are concerned, Copenhagen's scores for availability of personal loans, mobility, education and development, consumptions of goods and services, entertainment and recreation, ecology, identity with culture and history, inclusivity and equality, government services and the business environment all rank in the top 20 percent.
In contrast, Copenhagen only ranks in the bottom 20 percent for one metric (the ability to influence events) and in the bottom 20-40 percent for one other (comfortable climate).
No other city, across all three divisions, could claim fewer than four rankings in the bottom 0-40 percent.
Ever-changing Copenhagen
But perhaps Copenhagen's biggest achievement is its high score for Speed of Change. Granted, it wasn't enough to rank alongside fast-moving cities like Abu Dhabi and Doha, but its score of 61 is streets ahead of others in Western Europe – and nine points higher than its performance in 2021.
For example, fellow top 10 cities Vienna, Amsterdam, Stockholm and Oslo all scored in the 40s, while Zurich only managed 38 – surely its lowest score in any such survey!
Copenhagen's score, albeit dwarfed by index leader Warsaw's 85, was only bettered by one similar city: Nice (63), a city that has gone through many changes following the tragic events of 2016 in which 87 people were killed in a terror attack.
And that trend continued when the Danish capital was compared to the 'Megacenters' and 'Cruiser Weight' divisions where no European cities of similar ilk threatened Copenhagen's score.
Across all three divisions, only Dublin (55), Milan (51), Hamburg (51) and Munich (50) managed a score of 50 or above, making Copenhagen's 61 all the more commendable.
It underlines how the Danish capital is really on the charge.