News
The forecast is sunny, but it's not all good news
---
Hardly a cloud in the sky for days to come in the capital area. But beware the risk of drought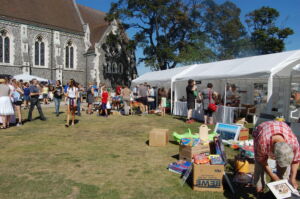 Expect heavy crowds in the city centre this holiday weekend!
Not only is Monday the second day of Pentecost and a public holiday in Denmark, but you might be able to catch a glimpse of Crown Prince Frederik jogging past in his hugely popular Royal Run event.
Like everybody else, the future king of Denmark will enjoy warm, sunny weather, which is set to continue well into next week, according to DMI meteorologist Steen Hermansen
"The high pressure above Southern Scandinavia will ensure us largely stable and dry weather for at least a week and probably even longer," he writes in a weather forecast on DMI.dk.
This is good news for everyone in the eastern part of Denmark. The west will be somewhat cooler, meanwhile.
Temperatures will mostly hover around 20 degrees until Monday, and then climb to 23-24 for the remainder of next week, according to yr.no.
Increased risk of drought and fire hazard
Farmers are less happy, though. Along with garden owners, they must use artificial irrigation if green growth is to flourish.
The drought index is severe in many parts of the country, and May will go down as unusually dry in Denmark. 
READ MORE: Dry spring: Drought an early concern for Denmark this year
Accumulative rainfall of 14.1 mm nationally means this month is set to be one of the 10 driest Mays since records began in 1872.
With drought comes an increased fire hazard risk and more fire bans. Learn more at brandfare.dk.
Since April 1, Nordsjælland Police has received up to 20 inquiries about fires that mostly turned out to be caused by the careless use of weed burners. 
"Unfortunately, we often experience that citizens inadvertently set fire to hedges, sheds and, in the worst case, their own or neighbouring houses when they use weed burners," said Carsten Jensen, the head of authority at the North Zealand Fire Service.