News
Another pitfall of gentrification: No more hiding bodies under the bridge
---
Crime novelist bemoans the rapid development of Copenhagen city district Nordvest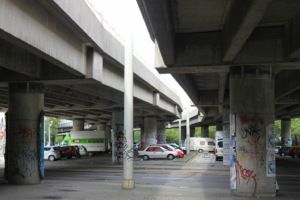 The current Apple TV+ series 'City on Fire' depicts a fictional battle between anarchists and developers in 2003 in Manhattan, a city centre on the verge of losing its last surviving working class neighbourhoods.  
New York City was ahead of its time, and back then very few even knew what the word 'gentrification' meant. Since then it's had some pretty bad press, as countless more major cities have followed suit. 
One of them is Copenhagen, where recent developments in the likes of Sydhavn, Nordvest and Valby have taken the capital to the edge of the precipice.
Many mourn the loss of character, even though districts like Vesterbro and Nørrebro have successfully held onto their shabby chic ethos despite the upgrade in facilities and amenities.
But for one local novelist, the pitfalls are of a more macabre nature – a dumping-lifeless-bodies kind of nature!
No more bodies under Bispeengbuen
Michael Katz Krefeld – a crime novelist with 14 books in his portfolio, of which some have been translated into 20 languages – bemoans the gentrification of his beloved Nordvest, a district in which he has set many of his works.
"Nordvest is undergoing enormous development, and this is proving to be a challenge because it becomes more difficult to hide bodies around the neighbourhood. There are fewer of the scary corners," he told København Liv.
"When you tell the reader 'We are in a ghetto in Nordvest', they already have an idea of what it looks like. In reality, I don't need to add many more words, and I can continue to write based on the reader's imagination."
Krefeld's favourite part of the district is the Bispeengbuen overpass straddling the border of Nørrebro and Nordvest, which the municipalities of Frederiksberg and Copenhagen are currently renovating.
"It's iconic: the epitome of outer Nørrebro and Nordvest. I like both the upstairs and downstairs; it's cinematic," he says.