Local
Billion kroner project could send cars underground in Copenhagen
---
A majority of City Hall is in favour of looking into two possible solutions relating to 'The Green Boulevard' project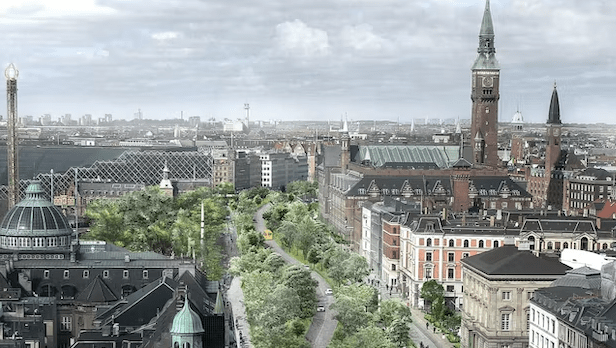 Local politicians in Copenhagen have long set their sights on reducing the number of cars traversing the city centre.
From curbing parking options in the Medieval City area to diverting traffic around the capital via the Nordhavn tunnel road, there are many plans afoot.
Now the city is inching closer to a decision regarding one of its primary car-related eyesores in the city: Bispeengbuen, the six-lane road that slices through the heart of the city from Nørrebro past the Lakes to Ørestads Boulevard in Amager.
A majority of City Hall is in favour of plans to submerge parts of the contentious stretch of road underground and replace the current concrete monstrosity with green areas on the surface.
READ ALSO: Medieval on your plads! Hundreds of city centre parking spots to vanish
Solution 1 in the lead
According to TV2 Kosmopol, local politicians are currently mulling two options for the so-called 'The Green Boulevard' project.
Solution 1 consists of two short tunnels without exits – a tunnel from Bispeengbuen to the City Lakes and a tunnel from Jarmers Plads to Rysensteensgade (just before Langebro Bridge).
Solution 2 is more comprehensive and involves a single longer tunnel with exits – stretching from Bispeengbuen to Ørestad Boulevard in Amager (after Langebro Bridge) with on and off ramps at Bülowsvej and the City Lakes.
Solution 1 is evaluated to cost 5.5 billion kroner and take seven years to complete, while solution 2 is almost twice as expensive (10.5 billion kroner) and would take eight years to finish.
With City Hall set to discuss the project further on January 30, a majority consisting of Socialdemokratiet, Venstre, Konservative and Alternativet have said that they are in favour of Solution 1. 
Among the issues yet to be solved is how to finance the project. The city is entertaining a number of options, including combining income from selling construction rights to the surface areas above the tunnels with state funds earmarked for the restoration of Bispeengbuen.