News
Chaos at Copenhagen Airport likely to continue into July, warns new report
---
Reasons for May delays unclear: Naviair cites runway renovation, while airport blames continuation of air traffic control problems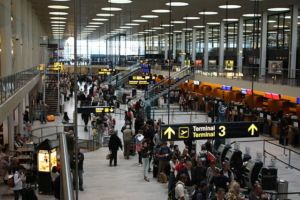 A new report concerning Copenhagen Airport, which reveals every fifth flight was more than 15 minutes late in May, forecasts huge delays continuing into the summer holidays.
According to Finans, 41 percent of passengers were affected by delays in May – the equivalent of 900,000 travellers.
An emergency plan, which was activated by the state-owned air traffic services company Naviair a fortnight ago, is not working, Finans reasons.
For 14 months now, Naviair has been involved in a pay dispute with the airport's air traffic controllers. At its root is the shortage of qualified personnel and pressure on them to work overtime. 
Naviair blames airport
However, Naviair blames the airport for its emergency plan not working, claiming it is due to the closure of one of the airport's two main runways for renovation work.
This has meant, claims Naviair, that the airport has only been able to handle 20-24 take-offs and landings per hour – two-thirds of the normal level.
"Until July 7, when the runway closure is ongoing, there will continue to be reduced capacity at Copenhagen Airport. When this period is over, the capacity is expected to remain as stated in the summer plan," Naviair informed Finans.
The airport is renovating 90,000 sqm of tarmac. The work is not suited to cold weather conditions.
Airport rejects claims
The airport rejects the claims, blaming Naviair for the failures. Naviair has been onboard with the runway closure since December, Copenhagen Airport traffic manager Kristoffer Plenge-Brandt told Finans. Back then, it promised one runway would be able to handle 48 take-offs and landings every hour.
"It is our duty to maintain the tracks, and we have always done so without this causing major fluctuations in delays and cancellations, so it is not fair to point to track work as the cause of delays and cancellations. Under normal circumstances, this is usually not a problem," he said.
"We see an increased capacity from Naviair, but operations are still unstable resulting in continued delays and cancellations to and from Copenhagen. It is clear from our experience that the reason for the delays we have is the lack of air traffic control."
Airlines' patience wearing thin
SAS, meanwhile, has followed the lead of Norwegian and heavily cricised the airport for the delays. With its financial problems, it could not have come at a worse time for the Scandinavian airline.
"The deadline for our patience has long passed. This costs both the airlines, the airport and Denmark as a destination and as a traffic hub," its press manager Alexandra Lindgren Kaoukji told DR.
"If the situation continues into July, we are facing an enormously challenging summer again. Neither our passengers nor we need that."
In Denmark, it is generally agreed that the 'summer holidays' start when the country's schools break up on Friday 23 June.