News
Almost half of C25 leaders are internationals following change of guard at Lundbeck
---
Pharma giant joins Pandora, Chr Hansen, Carlsberg, FLSmidth, Genmab, Rockwool, Royal Unibrew and Vestas by appointing a foreign leader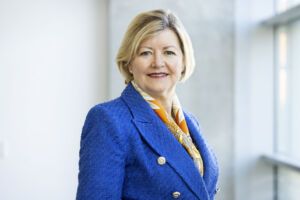 There has been a changing of the guard at pharma giant Lundbeck where Charl van Zyl will replace Deborah Dunsire as CEO and president. She is stepping down after nearly five years in charge.
Again, it's another significant example of an international taking the helm of one of Denmark's top companies. While Dunsire is American, Lundbeck executive vice president Van Zyl, who will take over the reins on October 1, is Dutch.
According to Berlingske, the appointment means that 40 percent of the C25 companies will continue to be headed by internationals.
Nine out of 24
Alexander Lacik, the head of Pandora, is Mexican, while Mauricio Graber, the much beleaguered CEO of Chr Hansen, is Mexican – two of nine internationals heading C25 companies.
This means that 37.5 percent of the C25 leaders are internationals (Maersk has two places on the C25 so there are 24 in total).
As of December 2022, Carlsberg, FLSmidth, Genmab, Rockwool, Royal Unibrew and Vestas also had foreign CEOs, according to Berlingske.
Not a recent phenomenon
But it is not a recent phenomenon, as 40 percent of the C25 executive were internationals in 2018 – the year their wages recently started to climb, Berlingske reported last year.
Back then, four of the ten were Dutch: Cees' t Hart (Carlsberg), Cees de Jong (Chr Hansen), Hans Savonije (Royal Unibrew) and Jan van de Winkel (Genmab).
In 2018, Berlingske reported that Cees' t Hart was paid 52.5 million kroner – a 45 percent rise over two years