The UK might have the fallout of Brexit to deal with, but that hasn't stopped the affairs of Denmark grabbing its fair share of headlines today.
Right now, the story 'Denmark tells some migrants to work for benefits' is the best read on the BBC website.
With millions of readers per day, this is no mean achievement.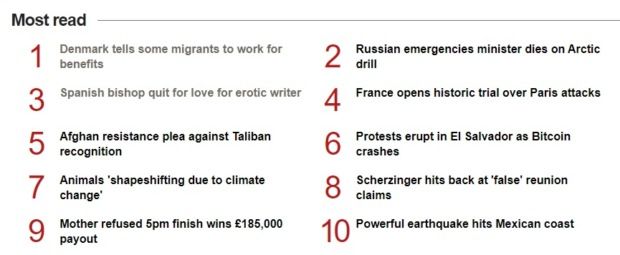 Give or take a few words
The story is more or less correct, if you substitute 'Denmark' for 'PM's party' and 'tells' for 'warns'.
The 'directive' is part of a reform proposal submitted by PM Mette Frederiksen that will need the backing of a majority of MPs.
READ MORE: Government unveils reform proposal
And that isn't going to happen until the government makes countless compromises.
More cunning than Baldrick
Announcing the proposal is both a transparent and slightly cunning way of doing business.
It's giving your left-wing allies a head's up before they sit down at the table.
And it's also signalling to Socialdemokratiet voters that this is what the party would do if it commanded an absolute majority by itself – you know … like in Nazi Germany.
And it's also signalling to any potential asylum-seekers out there to give Denmark the widest berth possible.
READ MORE: Is Denmark as unwelcoming to refugees as the media and the government would have us believe?
Non-Western backgrounds
So yes, PM Frederiksen did warn migrants in Denmark that some of them will be required to work 37 hours a week in order to receive welfare benefits. And she did say the rule is primarily aimed at women from "non-Western backgrounds" living on benefits.
"We want to introduce a new work logic so people have a duty to contribute and be useful, and if they can't find a regular job, they have to work for their allowance," continued Frederiksen.
"It is basically a problem when we have such a strong economy, and the business community demands labour, that we then have a large group, primarily women with non-Western backgrounds, who are not part of the labour market."
Butts off the beach: one then the other
Some 60 percent of women from the Middle East, north Africa and Turkey are unemployed, her aides explained. The employment minister, Peter Hummelgaard, added that the jobs could include picking up cigarette butts off the beach.
You can almost see the Socialdemokratiet voters, of which a rather large proportion voted for far-right party Dansk Folkeparti in the 2015 General Election before switching over in 2019, nodding their heads in approval.
But don't worry! DF's party in the mirror, Enhedslisten on the far-left, has already condemned the plans as "state-supported social dumping". Order will be restored when they come together around the table.