They say that life imitates art, but you're not going to believe it when you see the poster of Thomas Daneskov 's new film, 'Vildmænd', which stars Rasmus Bjerg.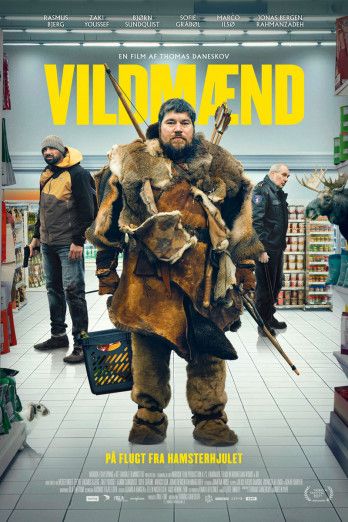 Yes, it's an archer in what appears to be a supermarket, and today plans to release the film in Denmark next month have understandably been shelved indefinitely following the tragic events in Kongsberg last night, where a crazed man killed five people with a bow and arrow.
READ MORE: Danish man charged with killing five people with a bow and arrow in Norway
Uncanny similarities
Not only is the poster eerie, but the plot is uncannily similar, although the film is supposed to be a comedy.
It follows a Dane (media are still trying to establish how strong the perpetrator's connection to Denmark was beyond having a Danish woman and automatic citizenship) who moves to Norway to live in nature and hunt for his own food using a bow and arrow. 
His choices lead to a few run-ins with the local police, and there is even a scene in which he threatens some officers with his bow and arrow.
Nordisk Film: Similarities are random
"Based on the tragic incident yesterday in Norway and out of respect for the relatives, we at Nordisk Film have decided to postpone the premiere of 'Vildmænd'," explained Nordisk Film spokesperson Frederik Honore.
"We would like to emphasise that the similarities between the film and yesterday's tragedy are completely random. We want to prioritise giving everyone enough time to process the tragedy before it becomes possible for Danish audiences to experience the film in the cinema."
'Vildmænd' made its worldwide premiere at the Tribeca Film Festival in New York in June. It had been due to be released in Denmark on November 11 and in Norway on January 22.  
READ MORE: Who is the 37-year-old Dane responsible for the Norway bow-and-arrow attack?