The Swiss have emmentaler, the Greeks feta, the Italians mozzarella, the French camembert and the Danes have … Gamle Ole? 
Well, the Danes have a bit more than that pungent, 'either-you-love-it-or-you-want-to-vomit-when-it-stings-the-nostrils' specimen of cheese. A whole lot more actually.
According to Chef's Pencil, Denmark is the world leader when it comes to cheese production per capita.
Denmark produces 78 kilograms of cheese annually per capita, which puts it ahead of New Zealand (76.1), Ireland (56.7), the Netherlands (54.2) and Cyprus (42).
"The country is one of the top milk producers in Europe, and half of that milk is used to make cheese, which is then, in large part, exported to around 150 countries," wrote Chef's Pencil.
"Denmark is also the sole producer of Danablu (or Danish Blue Cheese), Danbo cheese and Esrom cheese – these varieties have been PGI-marked by the EU, which means they've been granted protected geographical status and can't be produced anywhere else."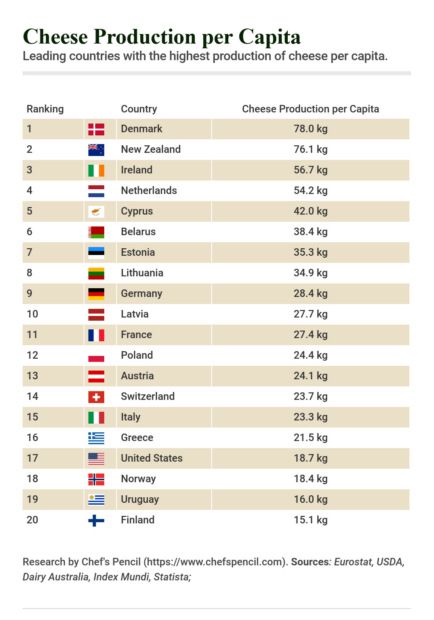 READ ALSO: Street in Vesterbro named one of the coolest in the world
US and them
In fact, not one of the countries in the top 15 have populations under 17 million … aside from Denmark.
The US easily topped the list, producing almost three times as much cheese as second-placed Germany. France, Italy and Russia completed the top five.